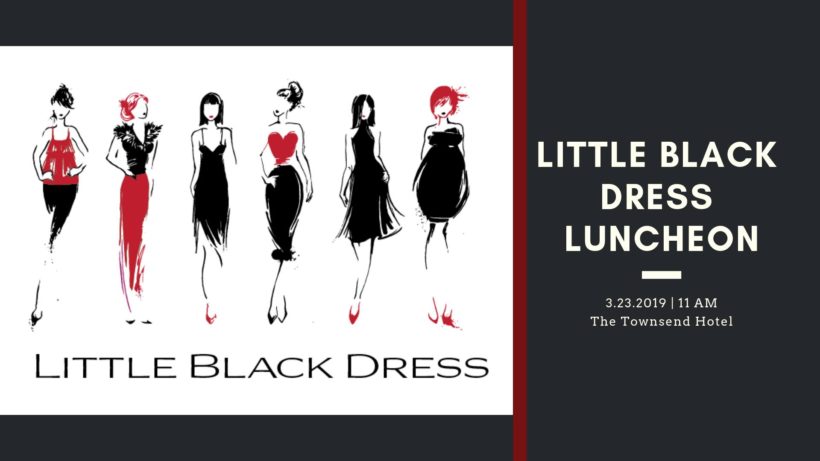 Little Black Dress Luncheon is Hosted by the Junior League of Birmingham
The Little Black Dress Initiative (LBDI) is an awareness campaign that aligns with the Junior League of Birmingham, Michigan, Inc.'s efforts to aid women in crisis in our community through the development of leadership and effective volunteerism. Empowering women to support each other is near and dear to the heart of our members and embodies the League's mission. Together, we are powerful.
The Junior League of Birmingham, Michigan, Inc. cordially invites you to the Townsend Hotel in downtown Birmingham on Saturday, March 23, 2019 from 11:00 a.m. to 2:00 p.m. for the 3rd Annual Little Black Dress Luncheon. The keynote speaker is Blessing Adesiyan, founder and CEO of Mother Honestly, a platform and community mindfully crafted to inspire and enable the modern woman to thrive in and beyond motherhood. Next, Amy Peterson, co-founder and CEO of Rebel Nell, will also be speaking for a fireside chat to discuss her career where she served as legal counsel for the Detroit Tigers then as the Vice President of RISE, a sports-based anti-racism initiative, to moving into the CEO role full time at Rebel Nell, a non-profit she co-founded. Rebel Nell employs women facing barriers to employment in Detroit, educates them on financial management, life wellness and entrepreneurship, and empowers them to transition to a life of independence.
Additionally, there will be a dignity drive leading up to and culminating at the luncheon. Did you know that food assistance, like SNAP benefits, does not cover nonfood items such as pet food, soaps, sanitary items, paper products, and household supplies, grooming items, toothpaste, and cosmetics? This is why the need for these donations is so great.
Family violence is the number one reason people present to homeless services. 55% of females cite this reason. Your donations are greatly needed. Guests are encouraged to bring (1) personal care item donation to the luncheon and we are happy to work with those unable to attend who would still like to participate.
Your $75 ticket includes entrance to the event, plated lunch, two (2) drink tickets for mimosas, bellinis, or champagne, and select desserts from the dessert tray. Check-in begins at 11:00 a.m. to give time to look at the exclusive vendors and browse the wonderful silent auction. The program will start promptly at 12:00 p.m.
Reserve your seat today. Tickets available on the eStore: www.jlbham.org.
Disclosure – This post may contain affiliate links. By clicking and shopping, you help support Detroit Fashion News and allow us to keep reporting on all things fashionable.