Fun Ways to Wear a Star Wars: The Rise of Skywalker T-Shirt
Star Wars – The Rise of Skywalker movie was scheduled to be released end of May 2019. But then, its release date got postponed to the traditional release time, that is, in Christmas 2019. Speaking from a fashionista's point of view, can this deter us from doing all the fashion experiments that relate to the Star Wars theme? The answer will always be a big NO!
Movie themed outfits for special occasions are always a good idea, especially for Halloween or birthday parties. But what if we want to make the outfits look more wearable and make it fit into our daily wardrobe? So, here are some of the ideas that can trigger your creative senses:
Denim with Star Wars Tee and leather jacket:
Denim pants are universally the favorite outfit option for any woman or man. Star Wars t-shirts can be paired up with basic high-waisted denim and sneakers to get a sporty look. When you have a lot of errands to run but also have to stylishly flaunt that you are a Star Wars fan, such outfit get up is the most feasible option. Pair it up with a leather jacket to bring a blend of "Rocker-Chic" look.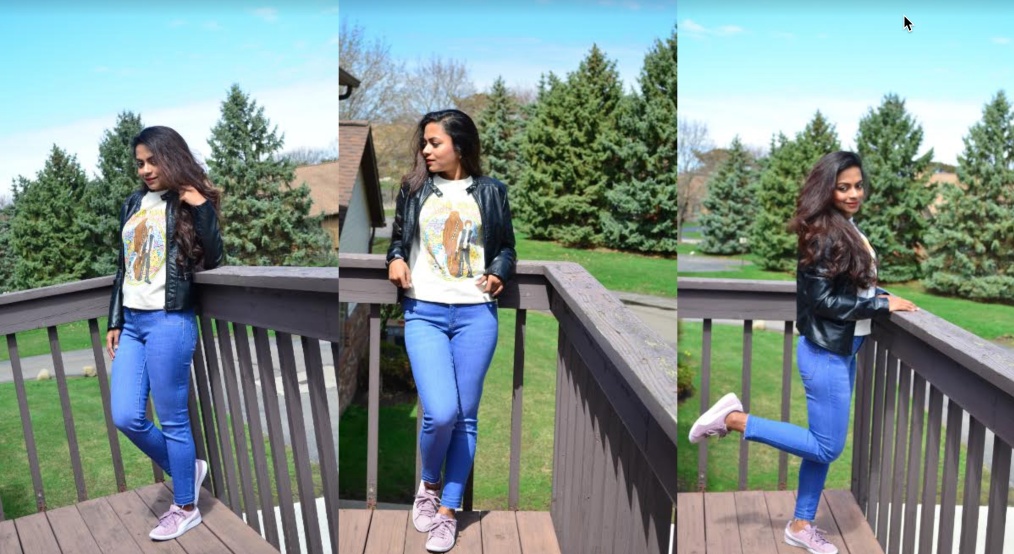 Star Wars Tee: FIVE BELOW / Skinny Jeans: WALMART / Leather Jacket: LEVI'S / Blush Sneakers: PUMA
Sequined Mini Skirt with Star Wars Tee:
Those night outs when you want to have an out of the box outfit but also show the party-goers that you are a "Star Wars Nerd"- go for this look! A black sequined skirt will add versatility when combined with a rounded neck Star Wars t-shirt. It's all about the creation of diversity yet being cohesive. Wearing black boots with a bit of heel will add that unique sophistication. Make sure to add some good highlighters on the highest points of your face to glam it up!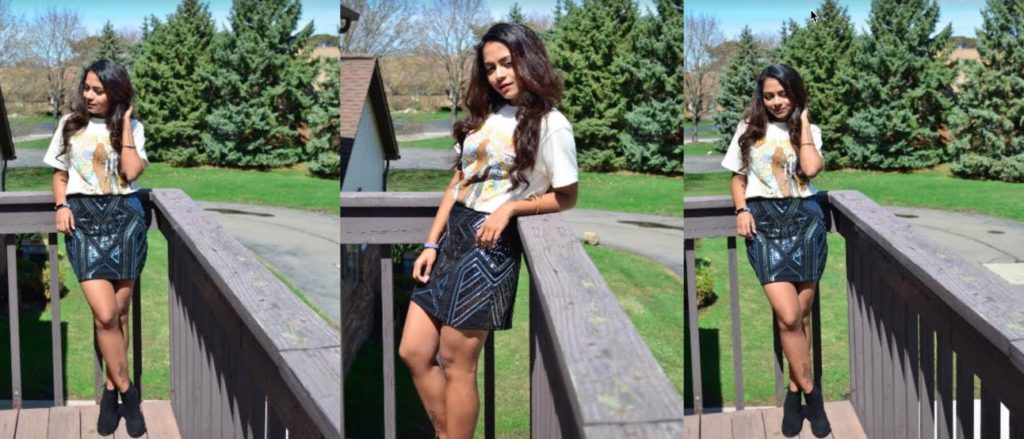 Star Wars Tee: FIVE BELOW / Sequined Skirt: EXPRESS / Black Suede Boots: EXPRESS
Printed Ankle Pants with Star Wars Tee:
Black and white is such a perfect combination to work with. It can be paired with all warm, cool and neutral tones; which is why pairing it with a pop of color like yellow is surely going to perk up the mood this Spring/Summer season. Wearing black block heels will add the right proportion of chic factor as because, ankle-length pant helps to add visibility to the shoes – hence, choose your shoes wisely! Also, make sure you apply loads of bronzer in this warmer season when you are wearing such bright yellow. It will make your entire look stand out as if you are a "Star Wars Diva".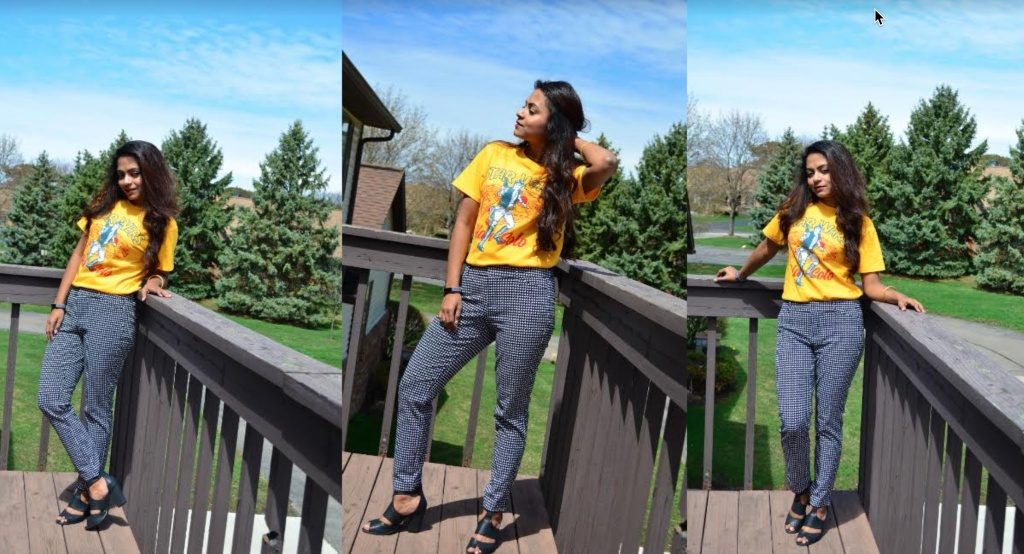 Yellow Star Wars Tee: FIVE BELOW / Pixie Ankle Pant: OLD NAVY / Heels: TJ MAXX
Body-Con Dress with Star Wars Tee:
Body Con dress is a girl's best friend when she wants to look sexy! But what if we want to make it as a multi-utility clothing item? Think about it!
A body con dress can be paired up with a knotted-shirt, a duster coat, a crop top layer, a lacy sleeveless shrug, etc.
In this look, a sleeveless basic stripes body con has been paired with the same bright yellow Star Wars t-shirt that is worn above. The reason behind such a color combination is just the season – that's it! Spring/Summer is the time to play with colors and break the monotony. A black canvas sneaker adds the sportiness to this look that stays at par with the jauntiness of the bright yellow round necked Star Wars Tee.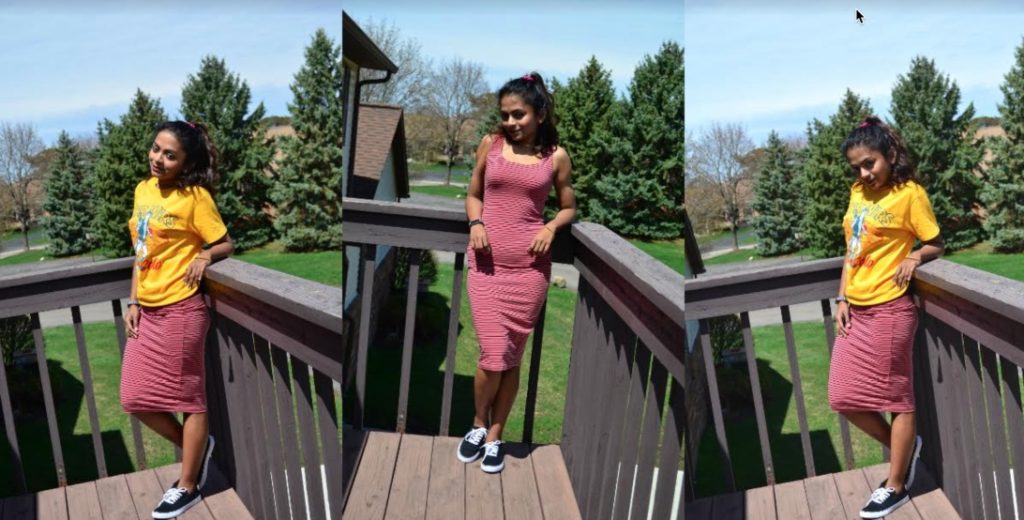 Yellow Star Wars Tee: FIVE BELOW / Striped Blush Body Con dress: RAINBOW / Canvas Sneakers: TARGET
So, let us know which look is your favorite? If you have any more creative ideas on how to incorporate Star Wars fashion into your wardrobe, feel free to share with us in the comments below or in Instagram & Twitter @DetfashionNews and on Facebook at Detroit Fashion News.
Disclosure – This post may contain affiliate links. By clicking and shopping, you help support Detroit Fashion News and allow us to keep reporting on all things fashionable.