Livia Firth Wears Richard Quinn for the Green Carpet Challenge
The Green Carpet Challenge is Eco-Age's world-renowned communications arm. It is a dynamic platform, pairing glamour and ethics to raise the profile of sustainability, ethics, and social welfare. From the Golden Globes to the Cannes Film Festival, the GCC collaborates with iconic design houses to win widespread critical acclaim and international media attention much like the recent collab for this year's Met Gala with Livia Firth and Stephen Jones. GCC collaborations are intended to illustrate that the marriage of ethics and aesthetics is possible and that brands can, by evaluating their supply chains and choices of materials, tell truly beautiful stories through their creations.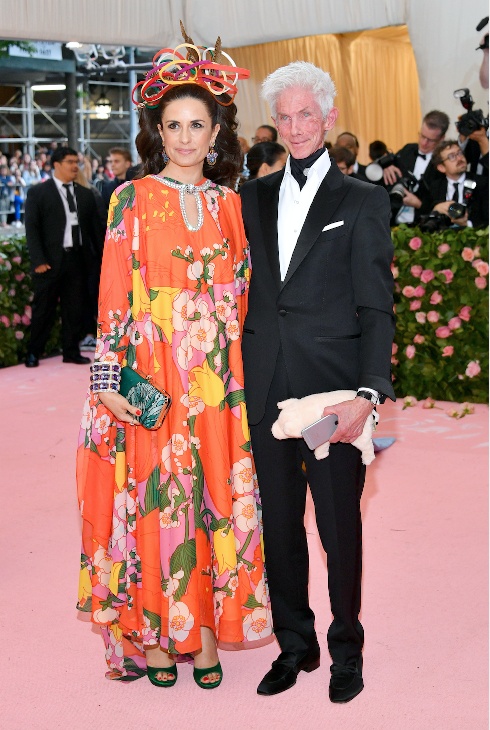 Stephen Jones has collaborated with Livia Firth to create a bespoke piece using the quote 'aesthetics with ethics to inspire the design. Stephen Jones keeps all excess materials from his collections, production, and one-off bespoke pieces. For Livia's Met Gala piece, he used excess felt from hats, which are blocked in the UK, from archive collection's production. Stephen was also inspired by the book Mrs. Pankhurst's Purple Feather by Tessa Boase, the story of Etta Lemon's campaign which led to the setup of the Royal Society for the Protection of Birds.
With this story in mind, Stephen has used feathers which were collected on a walk in the Suffolk countryside.  For the design, Stephen was inspired by Livia's inspirational and crucial company Eco Age, her charming personality and her incredible Richard Quinn Dress. The colors were selected from the print of the dress to use in the headpiece and used large loops of the excess felt to resemble the drape and flow in the dress. Livia completed the look with Jewellery by Chopard, as part of The Journey To Sustainable Luxury.
Quinn sourced two different fabrics from Italy for a special, customized piece for Livia Firth this year. The GOTS certified organic silk base layer is from Taroni, one of last year's CNMI Green Carpet Fashion Award winners. The outer, printed layer is made from GRS certified Newlife TM recycled polyester georgette from Boselli, Italy.  NewlifeTM is engineered from 100% post-consumer bottles sourced, processed and spun into yarn using a mechanical process. The yarn is exclusively made in Italy with a fully traceable supply chain.
"I couldn't have thought of a better partnership than with Livia for this year's Met Gala. I wanted my designs to visually stay true to the theme, but also to speak volumes in terms of the design's substance and meaning. The connotations of campness and excess do come hand in hand but this shouldn't come at a cost to the environment. Working with Livia and the Eco-Age team has been invaluable for my understanding of low impact-textiles, has introduced me to new mills who offer these innovative materials and re-enforced my desire to continue creating a more mindful company". – Richard Quinn
The colorful customized print on the dress was digitally printed in Richard Quinn's London studio, using an Epson printer, only using the exact amount of fabric to eliminate waste. The Epson printing process also enables printing onto recycled PET polyester and reduces water and ink use compared with traditional print processes, making it the ideal process to create on-demand unique fabrics. The dress is embellished with Swarovski crystal stones. All embroidery was hand sewn in London.
Are you interested in shopping the look? Visit MATCHESFASHION.COM
Disclosure – This post may contain affiliate links. By clicking and shopping, you help support Detroit Fashion News and allow us to keep reporting on all things fashionable.