July 4th Inspired Fashion
Summer in Michigan is so mesmerizing. It's not just because of the warmth in weather, but also because of the fresh blooming floral clothing that we get to see around everywhere. What a great mood lifter!
In this post, lets us focus on blue, red and white to continue the 4th of July celebration! Three different approaches have been taken while deciding what to wear to match up with the theme (there is no hard and fast rule though).
The Formal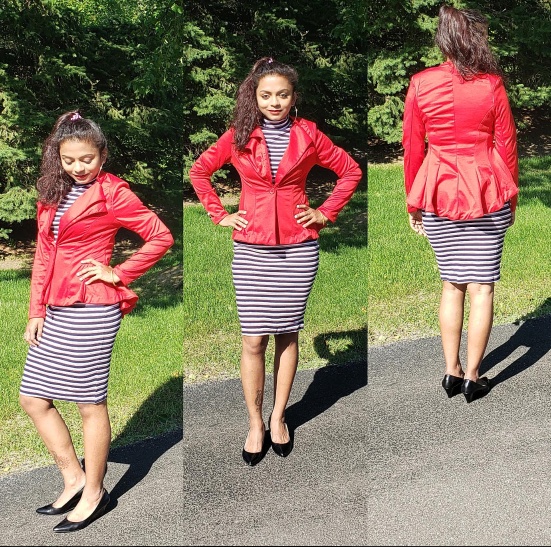 Dress: Rainbow / Red blazer: Hybrid & Company / Pumps: A New Day
Let us dedicate one themed outfit idea for the place where spend our active hours daily- The 4th of July inspired office wear.
Paired a body con red-white-blue stripes dress with a red blazer. This office blazer has an asymmetrical end at the back which makes it stand out. Also, since the red stripes of the dress are not too loud, a red coat adds that emphasis to this entire combination. Red or white heels could have been worn, but just to maintain the practicality of the look in a corporate environment, black heels have been opted for!
The Fancily Fitted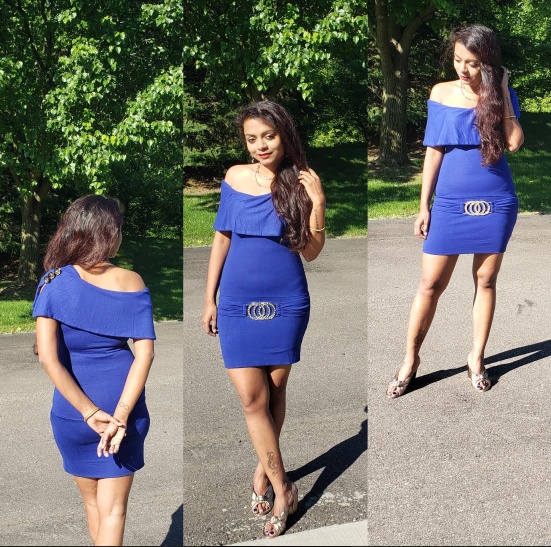 Dress: JJ's House / Sandals: Loeffler Randalll / Accessories: A New Day
This particular look is mainly for those who want to wear a single shade outfit. This one shoulder blue body dress is perfect for a nice get-together. The element of red and white has been added through accessories. The dangling earrings and lightweight beaded necklace brings a twist. Also, a golden pair of shoes will jazz up the look if one has party plans.
The Free Spirit
Crop Top: Doublju, Denim Jogger Pants: Banana Republic, Stilettos: Vicky Pump by Charles David
This look will surely bring out the child in you. The perfect mix of red, blue and white in a fun and frolic way. It's very sunny out there; so, if you don't want to get tanned yet want to enjoy the heat- try this look. In this weather, white and blue pointed stilettos with denim joggers and red crop top goes well with a top knot. So, try out this look and be the talk of the town this Summer!
Makeup Break down:
Choosing the right outfit is half the work, the rest is the magic of the makeup! The following list provides the products used to achieve a long-wearing skin-friendly makeup to beat the heat.
What did you wear on 4th of July weekend? Is it an outfit you can incorporate into more Summer events? Feel free to comment below to share your style ideas with Detroit Fashion News.
Disclosure – This post may contain affiliate links. By clicking and shopping, you help support Detroit Fashion News and allow us to keep reporting on all things fashionable.