Back Into the Groove with Woodstock's 50th Anniversary
Have you noticed? The air has been buzzing with the hip sounds of sixties music and fashion once again. One significant reason for this is the 50th Anniversary of Woodstock. Events are popping up all over in celebration.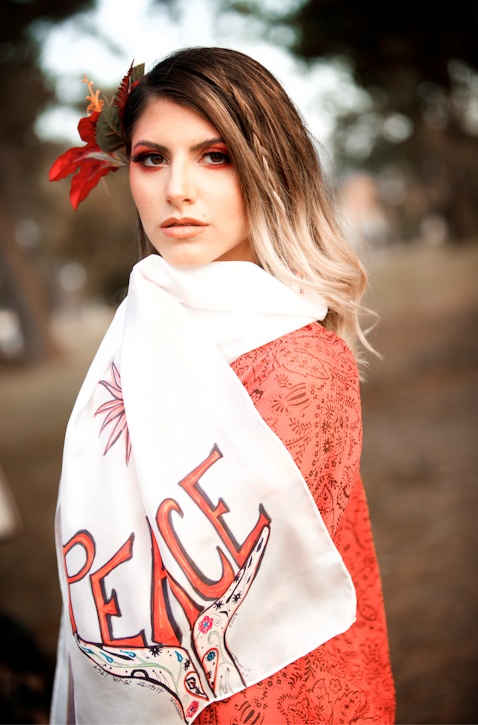 Model Austin Sulkey wearing hand-painted Woodstock design silk scarf by C. Creations
A Brief History of Woodstock 
Woodstock initially took place on August 15-18, 1969 and is the iconic music festival that shook the world for three entire days leaving behind a lasting impression for future generations. It changed lives by sending messages of peace and love and even made music history. Musicians such as Jimi Hendrix, Janis Joplin, Jefferson Airplane, Santana and more appeared on stage in Bethel, NY in front of an incredible 400,000-person crowd.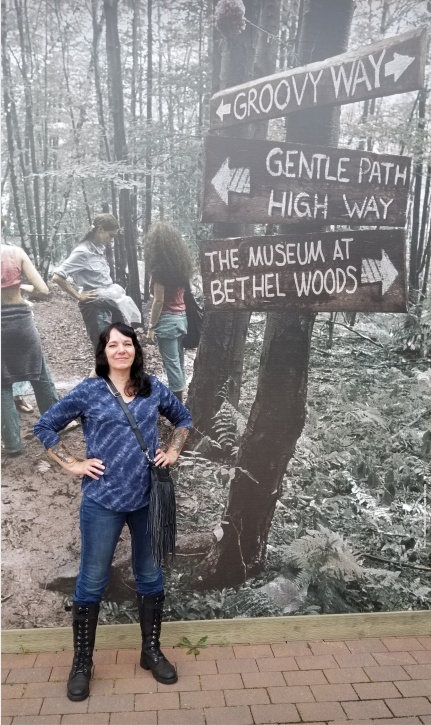 Jan Dunbar Produces "Downriver Celebrates Woodstock" Events 
One woman, from the metro Detroit area, Jan Dunbar, has worked for months to celebrate the anniversary by organizing Downriver Celebrates Woodstock, an event at the Downriver Council for the Arts (DCA). The DCA is located at 81 Chestnut, Wyandotte. Dunbar is an Artist, President of the DCA Board of Directors, and six-year long-standing president of the Acanthus Art Society that was established in 1933.
Downriver Celebrates Woodstock began on July 27 with a Woodstock inspired art exhibit that Dunbar curated. The presentation is on display now until August 17th and admission into the gallery is FREE. The show features creations from many established artists. Dunbar was even able to obtain an art piece by Hugh Nanton Romney, better known as Wavy Gravy, (an American entertainer and activist for peace, best known for his hippie appearance, personality and countercultural beliefs). Wavy Gravy brought his Hog Farm Commune to Woodstock to help feed and care for the Woodstock masses.
Fashion Inspired by Woodstock
In collaboration with fashion designer and artist Cheryl Zemke, Dunbar brought the sixties free-loving style back in a fun way by having Zemke provide sixties-inspired fashions for models to wear and pose in at the exhibits opening reception. Furthermore, Zemke supported Dunbar's events by featured them in her latest issue of Dedicated Magazine. Issue #18 Peace & Love & Woodstock is available to purchase a print or digital download.
Photographer Lee Cossin got in the mix by working with Zemke on a '60s inspired editorial photo-shoot with models Austin Sulkey, Laynie Braman, and Destiny Fowler. The shoot even had an original 1968 VW bus courtesy of John Kosinski.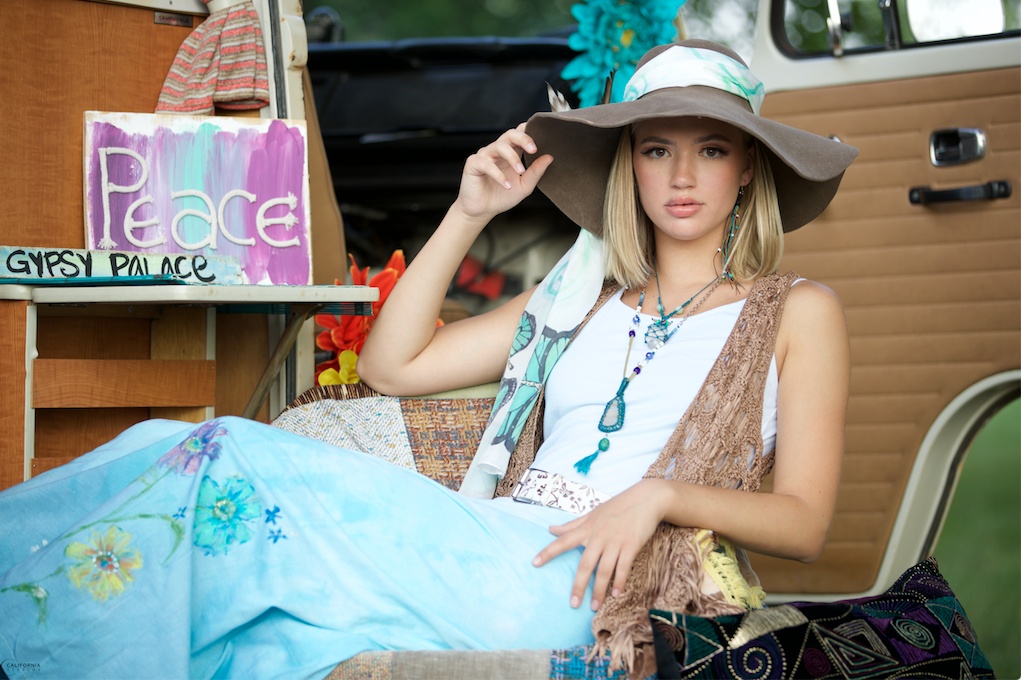 Model Laynie Braman is wearing C. Creations and jewelry by Sarah Wilkins – Thrifty Fair Trading Co.
Festivities
The celebrations continued on July 27th with a free music concert featuring four bands on the DCA stage. The line up included:
-Internationally acclaimed, award-winning acoustic duo Joe Kidd & Sheila Burke.
-Punk fusion band Ayonics featuring Scott Galeski.
-Front-man Dave "Stoney" Mazur of Stoney and the Jagged Edge. The famous Detroit area band and opening act for such legendary bands as The Doors, Pink Floyd, Uriah Heep, B.B. King, The Animals, and many more.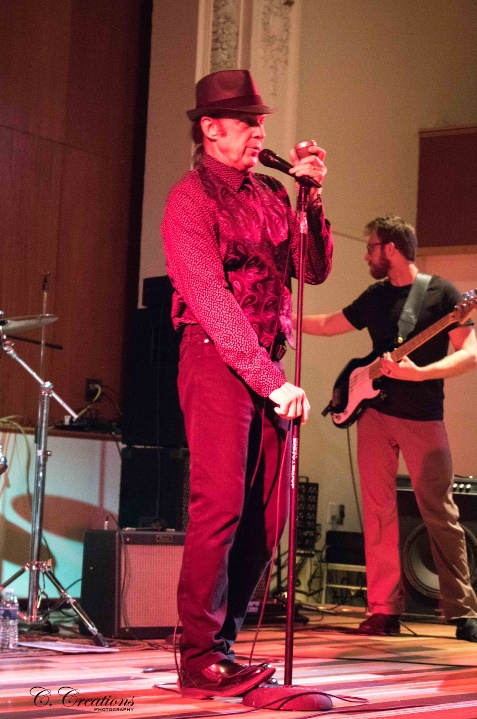 The next generation of real rock and roll, Kougaran. According to Reverbnation, Kougaran carries the #1 slot for all rock bands in Detroit.
On Saturday, August 3rd, Jan organized a movie screening of Woodstock the Director's Cut as a DCA fundraiser with raffles, and one lucky person went away with an autographed card from Grace Slick, lead singer of Jefferson Airplane/Starship.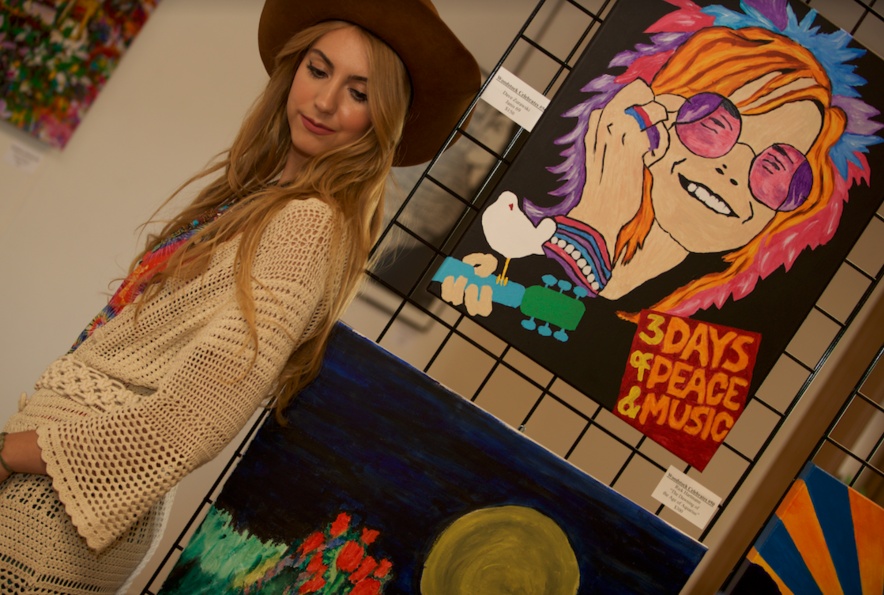 Brittany Stieber modeling at the exhibit opening reception.
Hope you take time to get back in the Groove with Downriver Celebrates Woodstock. Open until August 17th.
Stay "Hip"! Keep Cool!
If you're wondering what to wear for the Woodstock events you plan to attend, check out DFN's music festival article by clicking HERE.  
Disclosure – This post may contain affiliate links. By clicking and shopping, you help support Detroit Fashion News and allow us to keep reporting on all things fashionable.