How to Drape a Saree
We thought it was time to throw a spotlight on Sarees and how to wear them. A Saree is not just an uncut piece of handwoven cloth, it's an emotion. A beautiful expression.
Sarees are majorly worn by South Asian women as it is considered to be their traditional outfit. To wear a Saree, one first needs to wear a petticoat and a close/blouse  (some wear crop tops) first. Then drape the saree accordingly. The petticoat helps to hold the saree on to the body whereas the blouse is to cover the upper portion of the body as well as to support the "aanchal" area of the saree that hangs at the back crossing the hip section of the body. One needs to pin it on the shoulder area with the blouse so that the "aanchal" does not slip.
There are various ways to drape a Saree because each style is influenced by different traditions belonging to different zones or areas in India/Bangladesh etc. But predominantly, women wear Sarees in the following style pictured below: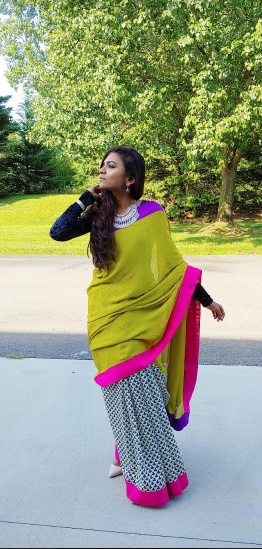 This is a lightweight printed saree where both the halves have different patterns. For special occasions like marriage, women generally love to wear gorgeous sarees that have heavy embroidery with sequins, crystals, or zari work. But for this specific look, the saree is simple easy-going but paired up with silver junk jewelry – just to make the entire look a little chicer.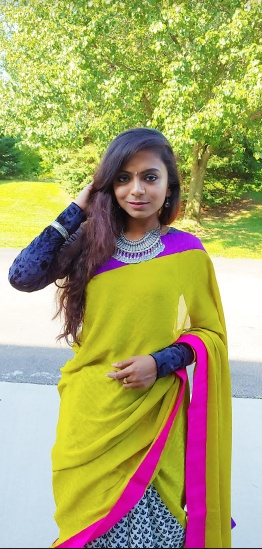 Jewelry from Rutba Creations, Saree from India, Blouse (crop top) from H & M
Indian women in general love wearing lots of kohl which pair up extremely well with sarees. So grey smokey eye makeup has been paired here with a subtle pinky nude liquid lipstick. In addition to that, a bindi has been worn on the forehead to match up with the silver necklace. A red bindi traditionally was worn by married women. But now fancy bindis are worn by many irrespective of marital status, just to coordinate with different styles.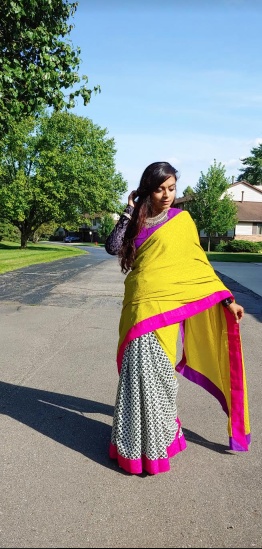 So if you are willing to see more of Saree outfit posts, let us know! The team here at Detroit Fashion News is happy to feature more South Asian looks so that you all can get some reference as well. Do you have a favorite Saree? Share a photo with us on FB, Twitter or Instagram @DetFashionNews and we'll be sure to share!
Disclosure – This post may contain affiliate links. By clicking and shopping, you help support Detroit Fashion News and allow us to keep reporting on all things fashionable.