Keep Those Summer Dresses Out for Fall
Fall is here and we cannot keep calm! Michigan turns most beautiful during this season because of the amazing fall foliage. Every street, every road, becomes so picturesque that one cannot stop falling in love with Michigan all over again once the fall season approaches.
When there's a nip in the air, we get an alarm from our fashion fairy that the time has come to revamp our wardrobe. Many of us may not want to bid goodbye to the summer season, but deep down inside we're already thinking about putting the Summer dresses away and bringing out the warmer clothes to create the perfect fall outfit.
The smart move would be to use the same summer clothes and dresses more intelligently with the layers of woolen shrugs, jackets or coats. This would be more cost-effective and at the same time, those garments would depict a perfect fusion of two seasons put together into one. Here are a few ideas on how to use our summer dresses for fall weather:
Romper with Long Knitted Cardigan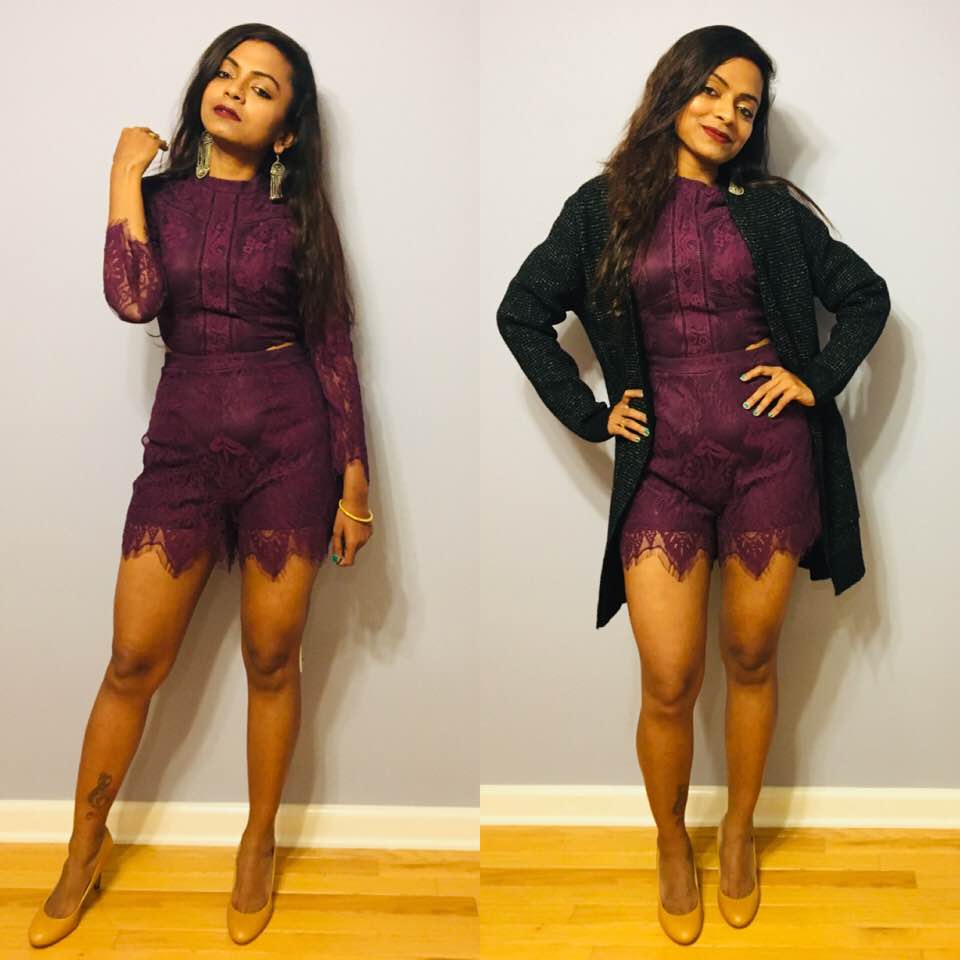 We all have those perfect outfits for a night out which we just wore once or twice in the Summer. Layering such pieces like the romper in your closet with a long knitted cardigan and heels will surely keep the fashion quotient sustainable. And, if you pair it with statement earrings and berry-toned lip shades then it will make it a Fall season approved evening look as well!
Asymmetrical Long Floral Dress with Leather Jacket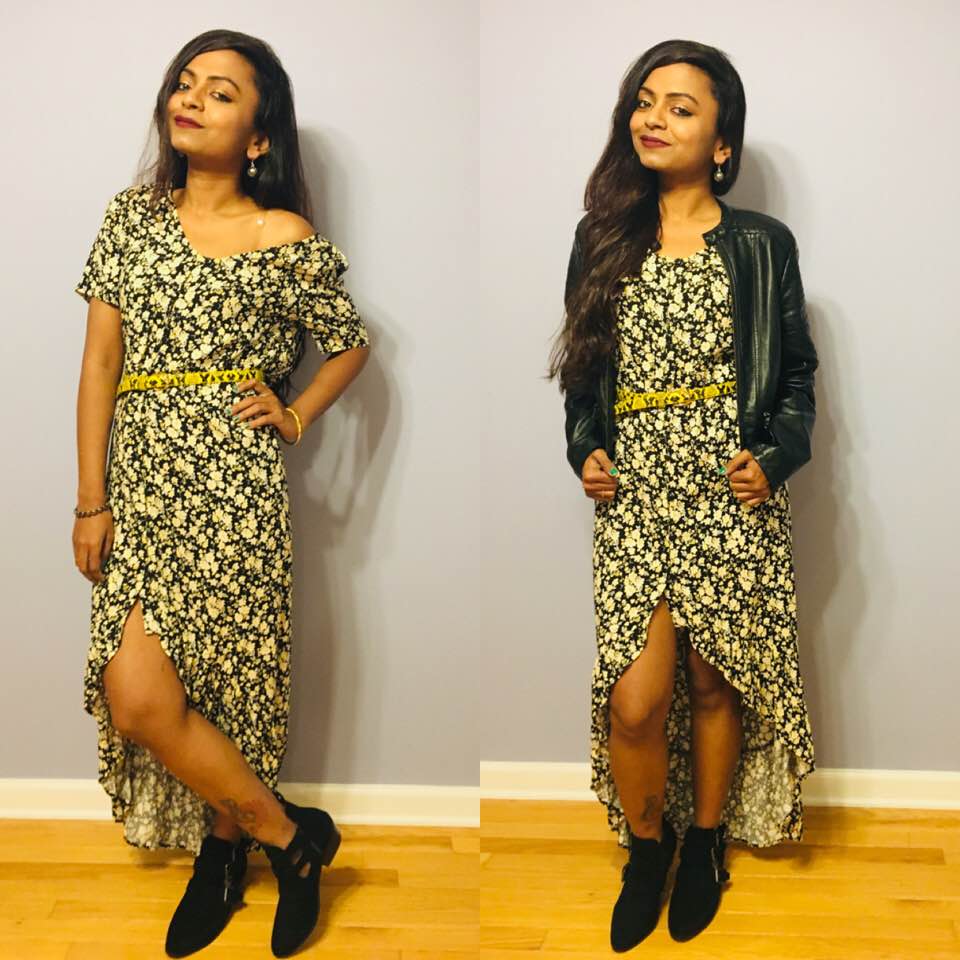 Dark florals are trending in during the Fall season this year. So you can still continue to wear florals this season without any excuse. Long dresses look very classy when paired up with boots. You can simply change your summer sandals to fall booties just to make those florals look fall appropriate. Leather jackets, on the other hand, are timeless. We can wear a leather jacket with pretty much anything to sharpen the final look. Choose a black and a brown leather jacket to wear them with different dresses. Perfect for day or evening.
Bright Floral Dress with Denim Jacket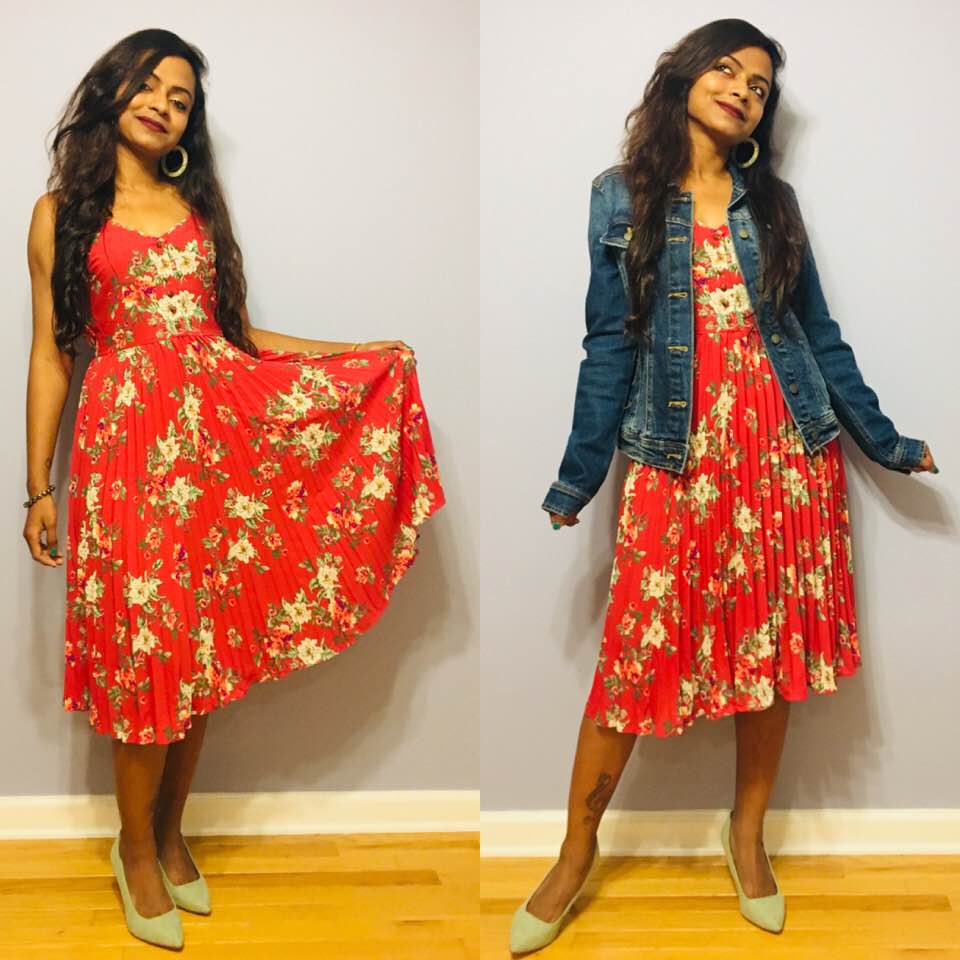 Don't be sad thinking that you cannot wear your favorite summer dress anymore this year. You can surely work out a way to make them wearable for the Fall season. Denim jackets need no season. They are here to stay forever! All you need is to do is wear it over your strappy summer dress and pair it with heels to add a luxurious feel. This kind of look would be perfect for brunch or afternoon get-togethers because such dark corals, fuchsia, orange and yellow look more appealing during the day time. And denim, on the other hand, would tone down the outfit making the attire more relevant for the Fall season.
We hope you enjoy these three ideas and continue to make use of your summer outfits in the Fall season. If you have more ideas, share your pictures on Facebook, Instagram and Twitter with hashtag #TeamDFN and we'll share those looks with our readers!
Disclosure – This post may contain affiliate links. By clicking and shopping, you help support Detroit Fashion News and allow us to keep reporting on all things fashionable.