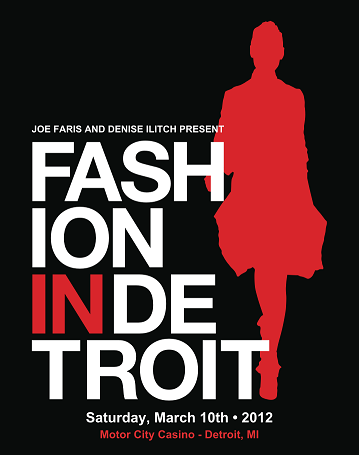 Fashion in Detroit will be hosting their third annual show presenting collections on an elaborate runway similar to those used during New York Fashion Week. The stage will be set at Detroit's own Motor City Casino and Soundboard located at 2901 Grand River Avenue in Detroit.
With a mix of  national and local, up and coming talent,
Fashion in Detroit
focuses on created individuals and their designs derived straight from Michigan. This high-style, high-end event show started with a bang three years ago and will continue to bring fashion and style back to the city of Detroit.
The date of this years event is March 10, 2012 which will include back-to-back runway shows from local and national designers as they preview their Fall / Winter 2012 collections. Joe Faris, a Metro Detroit designer and a previous competitor from the hit television show Project runway, has a strong vision to put Detroit back on the map and make the city a fashion mecca.  His business partner, Denise Ilitch is no stranger to fashion or Metro Detroit. She is the co-creator of Ambassador Magazine, whose message is to feature local Detroit talent who are considered "Ambassadors of Detroit". She is also the creative force behind Denise Ilitch Designs. Through the years, Denise has been fully involved in the city of Detroit and has shown a love for her city like no other.  Both Faris and Ilitch are excited to partner and bring this highly anticipated cultural event to the fashion-elite of Metro-Detroit.
In addition to a full day of runway shows, FID will also host Market Detroit, an interactive pop-up shop retail environment showcasing local vendors and designers. After the runway shows, the Sound Board will be transformed into a chic  FID AfterGlow party attended by local celebs and fashionistas a like.
Not only does this event attract fashion insiders, designers, reporters, and buyers from around the world. FID also highlights talented hair designers, make up artists, models, photographers, and countless volunteers. It also provides a forum for local design students from Northwood University, IADT, and Wayne State University to be featured in their own runway show.
Fashion in Detroit is not only focused on fashion and local talent but also has a strong focus on giving back to the community. This year they have partnered with Ronald McDonald House of Ann Arbor and Detroit.
To attend the event tickets must be purchased to reserve seating.  Ticket prices are as follows:
Individual Tickets: $25
General admission runway reserved seating: $100,
Afterglow general admission: $15 or VIP: $50
Title, platinum, gold, silver and bronze sponsorship packages are also available, please visit fashionindetroit.com for full details.
To reserve your spot at Fashion In Detroit, contact 248-505-4111 or email: info@fashionindetroit.com.

Shannon Lazovski is the Founder & Editor of Detroit Fashion News.  Find out more about one of Detroit's top fashion bloggers here!