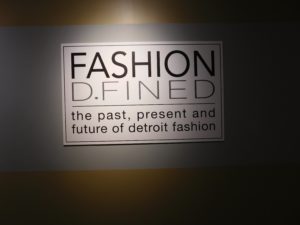 This summer, the Detroit Historical Museum opened their exhibit "Fashion D-Fined: The Past, Present and Future of Detroit Fashion." The exhibit, which is located inside of the museum's Booth-Wilkinson Gallery, showcases 20th century fashion from Detroit designers and retailers of the past and present.
I would always hear stories from my parents and other older people I would meet about the wonders of the Detroit retail scene when they were growing up. I would often paint images in my head of what I thought stores such as Hudson's and Winkelman's used to look like, and how glamorous and exciting they must have been.
Finally, I was able to get a clearer idea thanks to this exhibit! "Fashion D-Fined" truly takes you back in time and on a visually appealing chronological trip, as you view clothing and accessories dating from the 1940s up until today.

Over two dozen native Detroiters and Detroit-based designers and brands were featured throughout the exhibit, including:
Himelhoch Brothers and Company
I spent about an hour reading all of the summaries and looking at each and every piece that was showcased. I came in knowing a little bit about Detroit's fashion history, but I left with so much new knowledge and feeling inspired and excited about my future within the industry.
In addition to highlighting designers and retailers, "Fashion D-Fined" had excerpts about the
Detroit Garment Group
, Detroit fashion writers, and fashion events that take place annually in the city.
Those that are from Detroit know of all of the various aspects of the city, but this exhibit really gives visitors the chance to see just how multifaceted we really are.
If you haven't checked out "Fashion D-Fined" yet, don't miss out! The exhibit will close on December 31. The Detroit Historical Museum offers free admission to the public. The museum is open Tuesday through Friday from 9:30 a.m. – 4:00 p.m., as well as on Saturdays and Sundays from 10 a.m. – 5 p.m. For holiday hours, click
here
.
Written by Evann Webb
*Disclosure – This post may contain affiliate links. By clicking and shopping, you help support Detroit Fashion News and allow us to keep reporting on all things fashionable.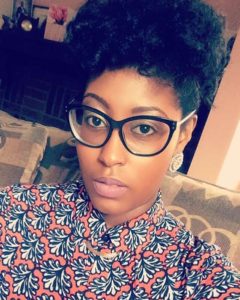 Evann Webb is an aspiring fashion journalist from Detroit. With Bachelor of Arts degrees in journalism and fashion design from Michigan State University, Evann is destined for greatness. Determined to make a name for herself professionally, Evann has had various editorial reporting experiences. While in school, she wrote for MSU's Voice Magazine and HerCampus chapter, and started her first fashion blog entitled, "What the Heck Are You Wearing?" Evann has also had the opportunity to work as the Social Media & Editorial Intern for Young, Ambitious & Beautiful (Y.A.B.), Copywriter Intern for Title Source Inc., Editorial Intern for Ambassador Magazine, and now runs her new blog called "Damsel in Detroit." When you see Evann, be sure to ask her about her beautiful glasses.