What Are the Product Specialists Wearing at NAIAS 2019?
The North American International Auto Show is here, and we have exclusive details on how the automotive brands are dressing their product specialists. You know, the good looking people who are always dressed well and are the most knowledgable about the vehicles? Yes, those are product specialists and boy are they wearing some cool designs this year.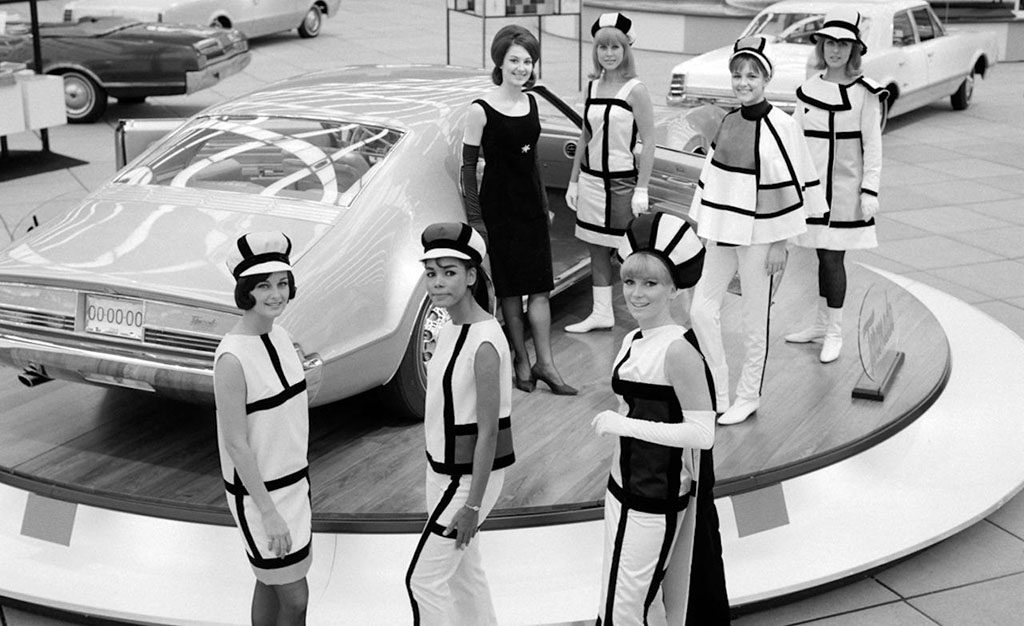 For decades car brands have been dressing their auto show models in designer clothing for the big city shows. But which designers are they choosing? Since the 60's, auto show models have been wearing eye-catching designs from top fashion houses from around the world. Designs that represent the car brand and it's auto show display has and always will be important. Choosing a reputable fashion brand goes with the territory. Here's what we found at NAIAS 2019 regarding who's wearing what:
Volkswagen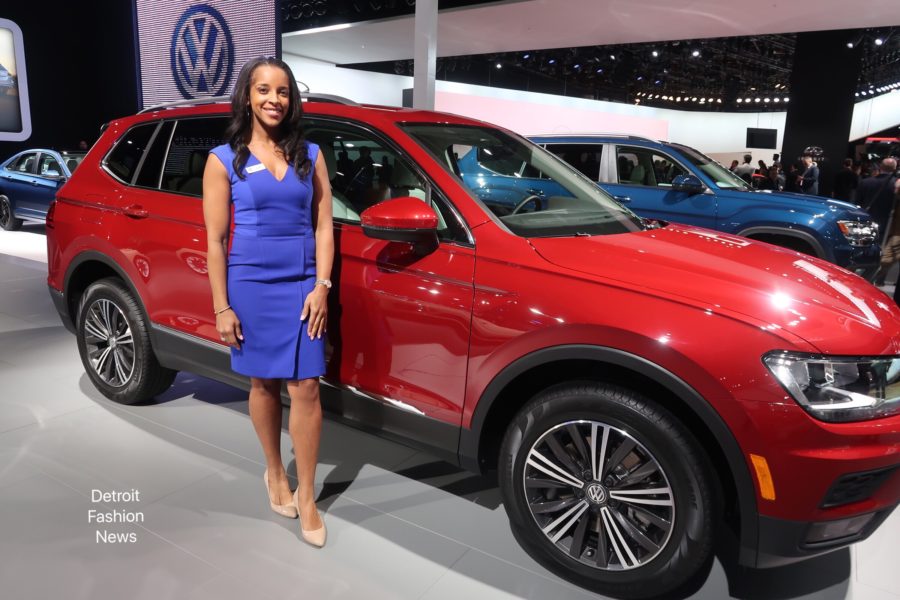 +
Volkswagen product specialists at the Detroit Auto Show are wearing Hugo Boss v-neck sheath dresses accented with a nude shoe. This color is electric under the showroom lights and is the perfect color that allows the specialists to stand out from the rest of the show crowd.
Hyundai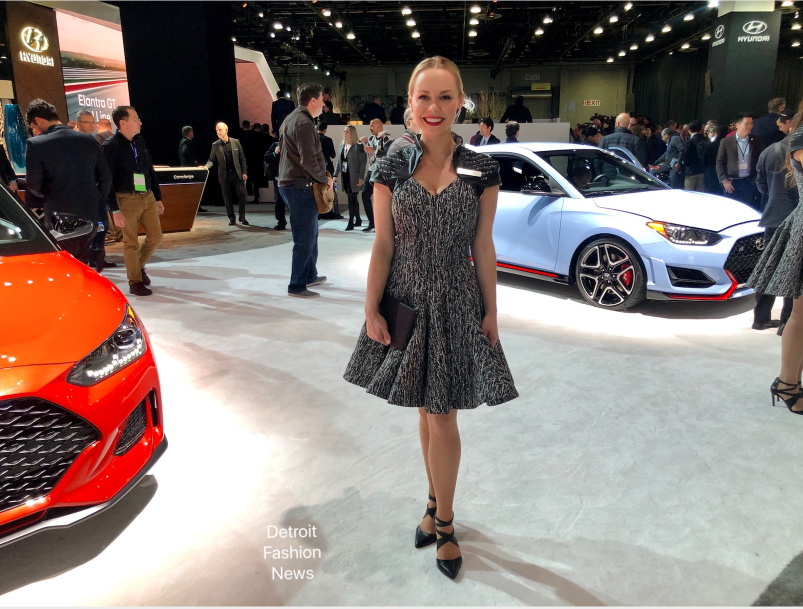 Rubin Singer is known for his edgy yet sophisticated designs. He has a way of balancing out the two to give fashion lovers a true high fashion piece. The product specialists at Hyundai were turning heads with this Rubin Singer dress. The dress has a standing collar, metal accents, and leather cap sleeved shoulders offering a 50's flare in the skirt.
Buick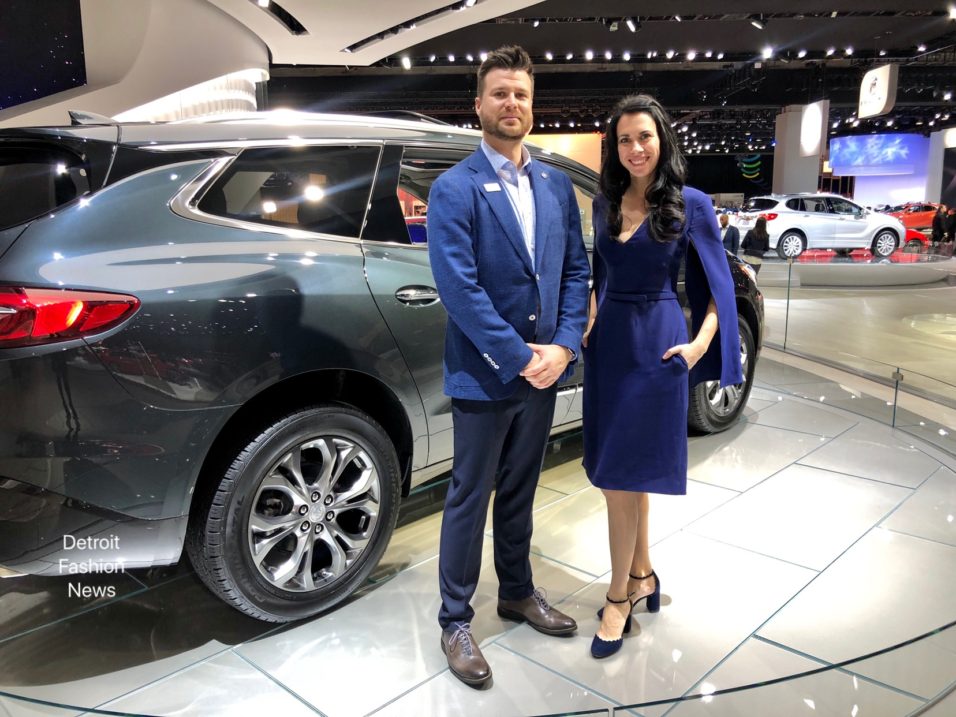 Buick offers a sophisticated look (remember what I said about the fashion matching the brand being important?) with their 2019 product specialists. Blue is a big hit this year, not only in the car displays but with the specialist's clothing ensembles as well. The men are wearing SuitSupplu unstructured blazers, Ralph Lauren slacks, and a button-down Michael Kors dress shirt.  The men's shoes are from Anatomic & Co. The ladies representing the Buick brand are wearing blue Stella McCartney cape dresses that hit just below the knee and Chloe suede shoes.
GMC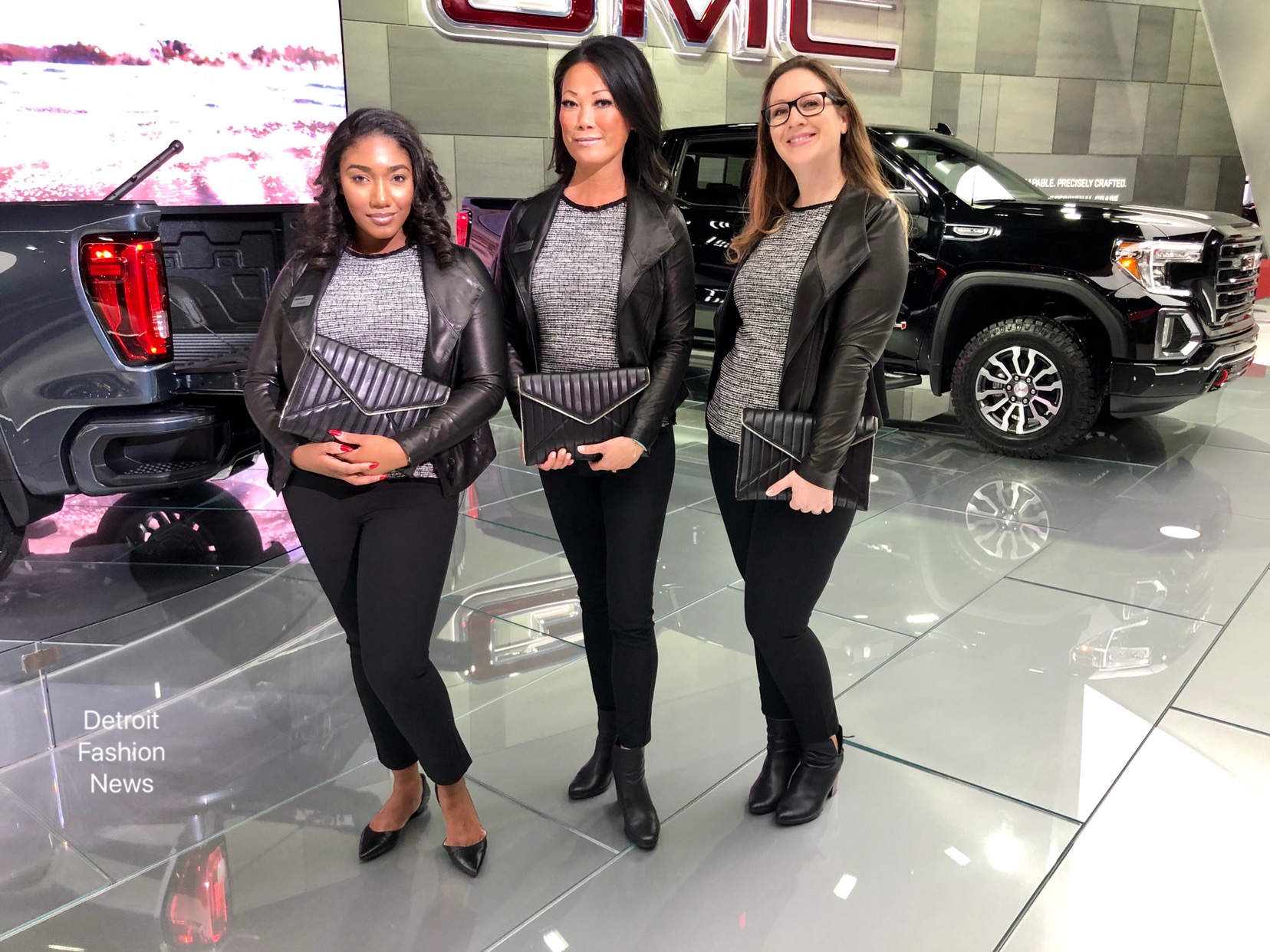 The ladies offering their product knowledge at GMC during NAIAS 2019 are wearing tweed tops from Banana Republic, Nordstrom signature leather moto jackets and a black cigarette pant from Rag & Bone. A few of the ladies are also wearing Kelsi Dagger boots and others are sporting Marc Fisher flats. The Rebecca Minkoff clutches with zipper detail accent their look.
Cadillac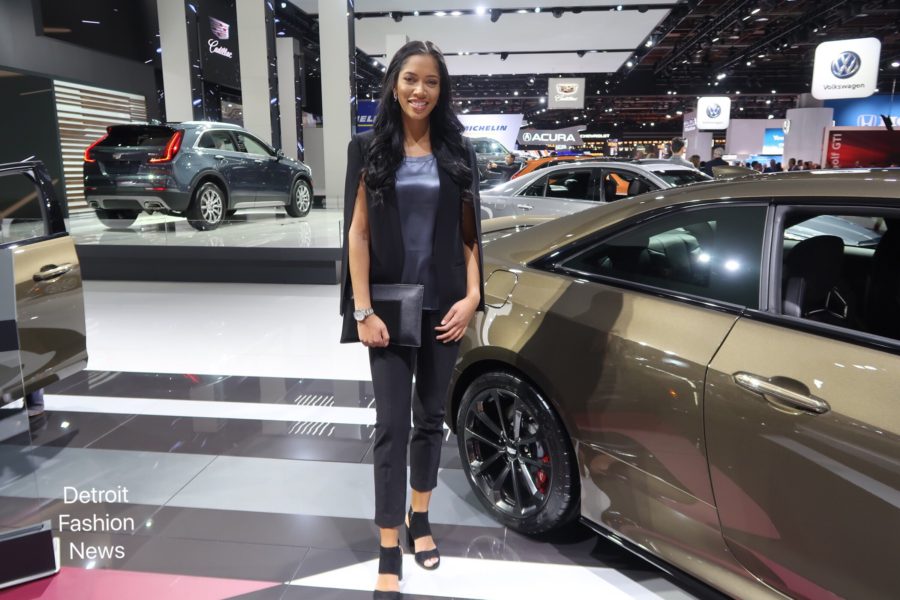 Cadillac did well with their fashionable ensemble.  This NAIAS 2019 product specialist is wearing a Kobin Halperin cape blazer, Lafayette 148 silk top, Vince cropped pants and Pelle Moda suede sandals.  As her main accessory, the Treasure and Bond clutch finishes her polished look.
Buick Avenir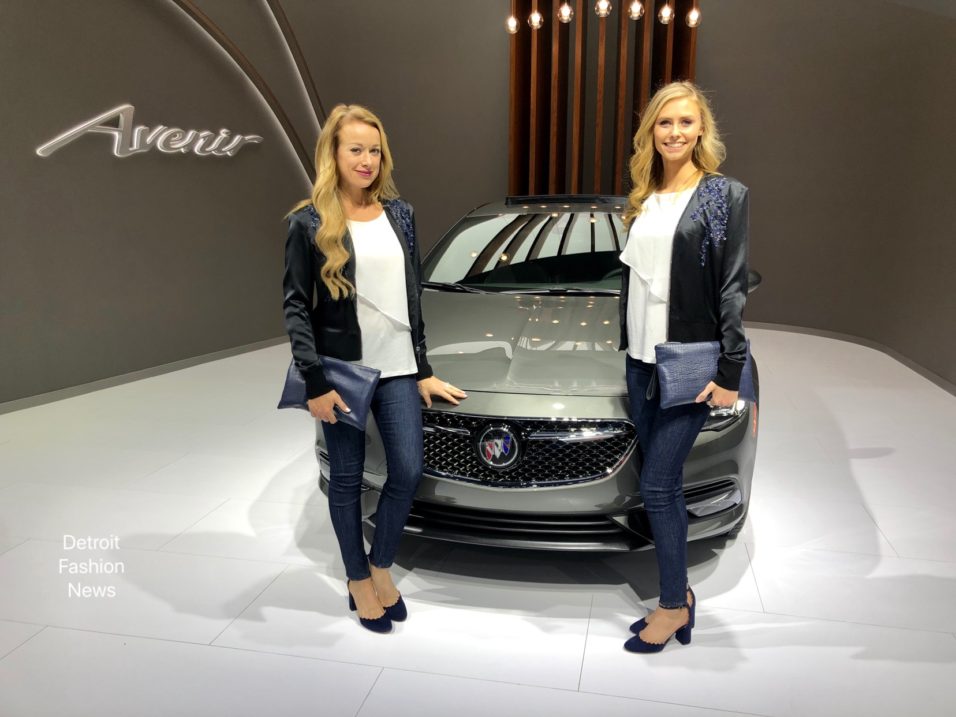 The Buick Avenir was launched a few years back and is known for its signature styling & inspired amenities. These ladies are accenting the vehicle in fashions different from the other Buick product specialists. They are wearing Rag & Bone skinny jeans, a Hugo Boss top with Elie Tahari embellished bomber jackets that sparkle in the showroom lights. A classic blue croc-embossed clutch and Chloe suede shoes finish the outfit for the perfect Buick Avenir PS look.
Lincoln Motor Company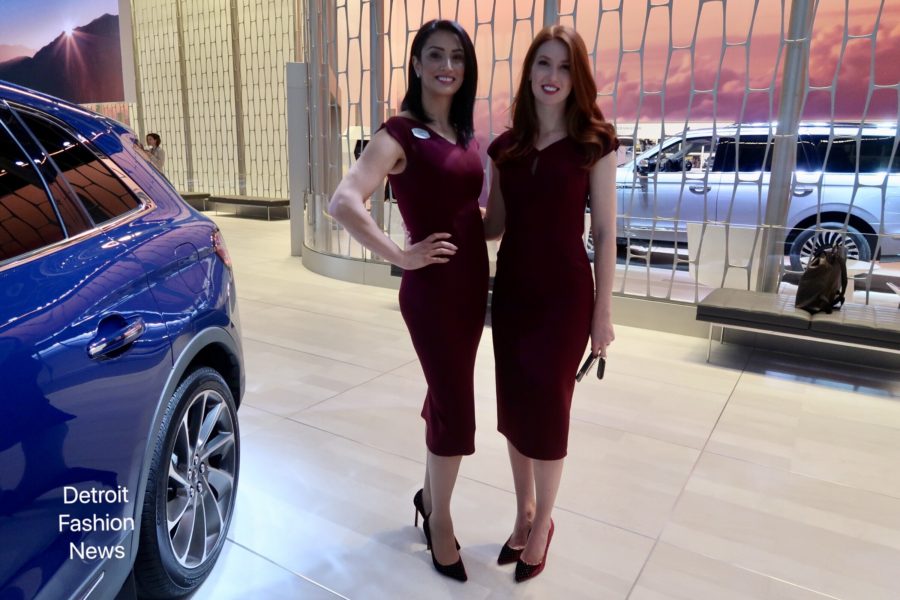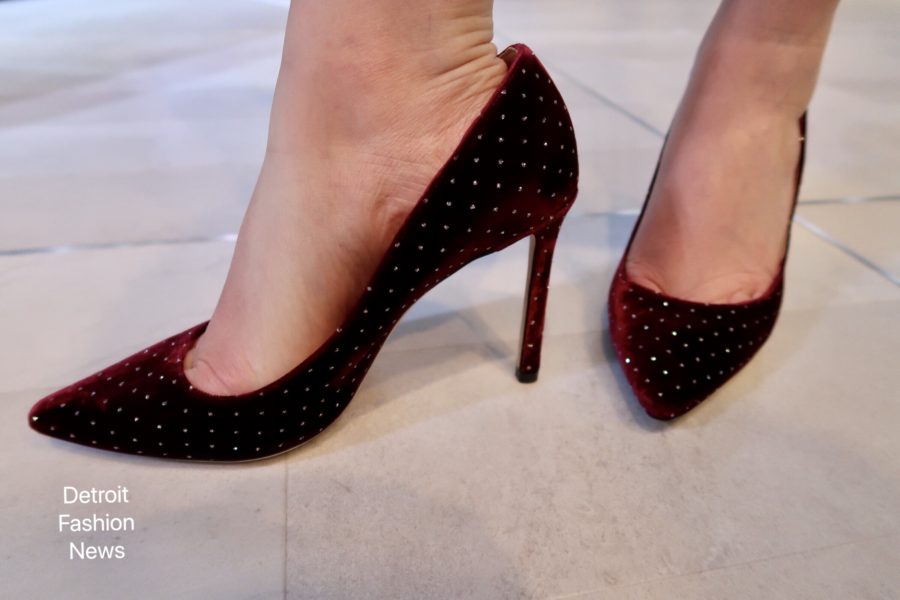 The ladies of Lincoln Motor Company are stealing the show in their form-fitted Garnet sheath dresses and Jimmy Choo stilettos. These Jimmy Choo heels are covered in crystals, sparkling with every step. A show-stopping choice indeed.
NAIAS Host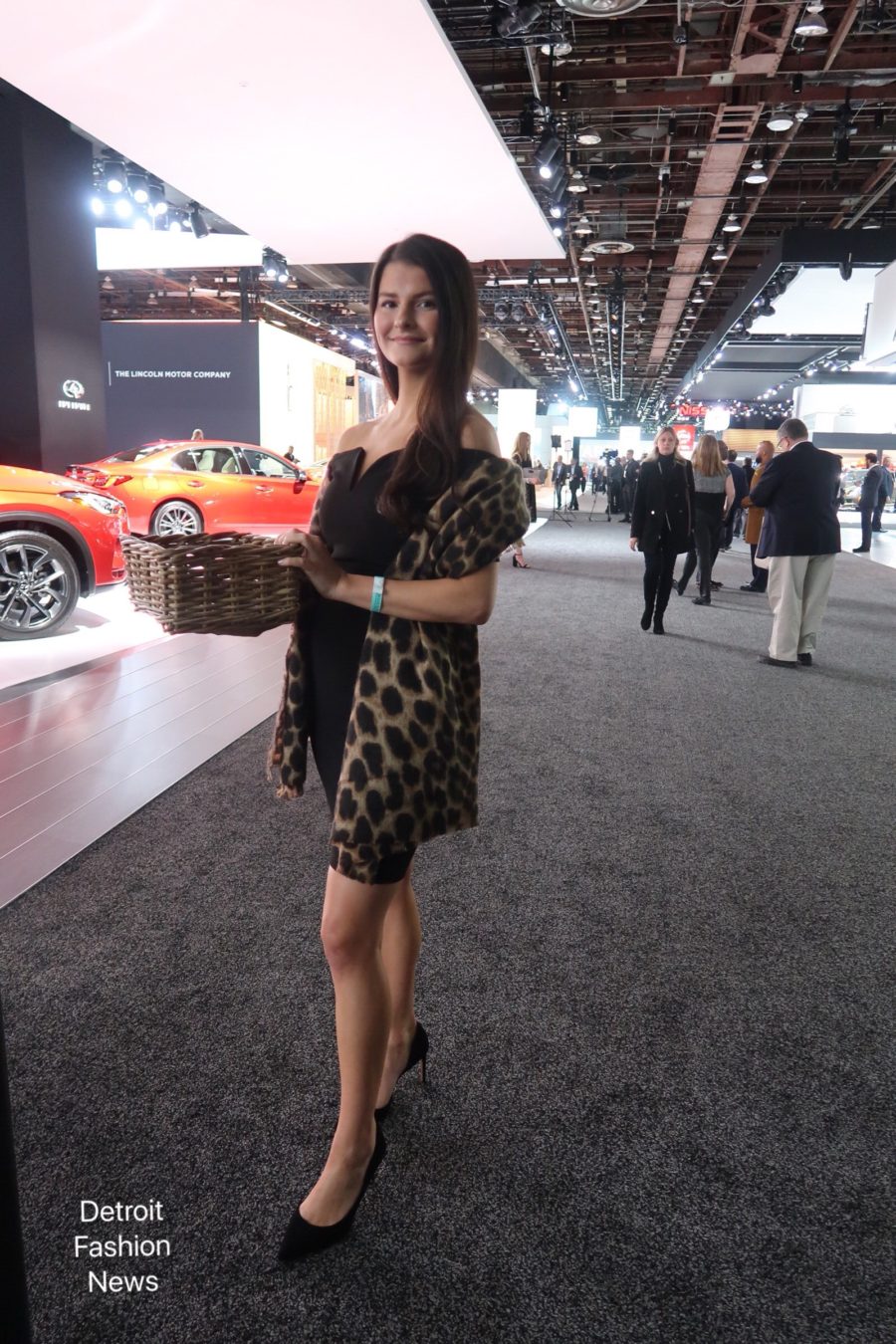 Are you heading to the show this year? The NAIAS 2019 hosts at the front door will greet you with mints and marketing materials at the door to help you enjoy the show. The greeters are wearing black heels with a form-fitted off-the-shoulder black dress accented with a leopard print scarf.
The NAIAS public show will run Saturday, January 19 through Sunday, January 27, 2019. The show is open from 9a-10p daily except for the last day when it closes at 7p. The last admission is 1 hour before closing time. Tickets are $14/adults and $7 for children (ages 7-12) and seniors (ages 65+). Children 6 and under are free with a parent or guardian. Tickets are available at the door or online. Online tickets are now available as eTickets instead of needing to pick them up at Will Call as in past years.
What will you be wearing to the North American International Auto Show this year?
Disclosure – This is a sponsored post and post may contain affiliate links. By clicking and shopping, you help support Detroit Fashion News and allow us to keep reporting on all things fashionable.