Find Your Style at the Detroit Institute of Arts with Artistic Fashion Scarves & Accessories
Welcome to a New Year! Are you ready to start 2019 off with some great fashion finds? We have some ideas to help you show your artistic style. Inside the Detroit Institute of Arts (DIA) is filled with many art finds. Not only will you discover an amazing permanent collection of art and the best special exhibits, but it is a beautiful place to pick out the perfect fashions and fashion accessories to make your outfit a masterpiece at the museum store. If you are not in the local area and would like to shop online, no problem, the DIA has an online store stocked as well!
Every Great Closet Needs a Wide Assortment of Scarves.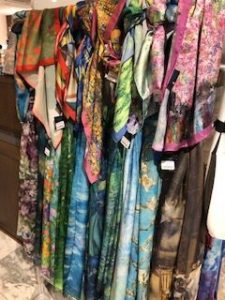 Whether you are dressing for success or dressing up jeans and a tee, a scarf is a perfect accessory. You will find today's fabrics soft and wrinkle-resistant, which makes them great for travel or to keep in your bag or car. At the DIA gift shop, there is a large assortment of scarf prints that are inspired by various artists' works of art. Here are a few scarves that caught our eye:
M. C. Escher (1898–1972) was a Dutch graphic artist who became world famous through his interest in the unusual, which he brought to life in his prints. His repetitive graphic designs make for an eye-catching addition to your fashion accessory collection with a Blue and gold, silk twill scarf for $79.95. For $39.95, you can choose the Monet's Poppy Field scarf. This would make a great gift for art lovers, and fans of Impressionism. Also for $39.95, the DIA has an assortment of scarves from artists Van Gogh, Klimt, and various other prints.
Handbags with Style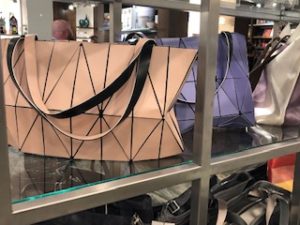 Another way to get a good start in the new year is by freshening up with a new handbag/purse. This lightweight purple or peach geo-flex satchel will turn heads with its unique geometric shapes! The bag has a fully lined interior with zip top closure to keep everything secure. Made of vegan leather, the handbag will help you easily stay organized all year with an inner zip pocket and two slip pockets for storage. No more fuss over losing your keys, phone, and wallet!
Jewelry with Artistic Style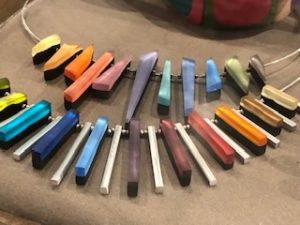 If it is a great statement jewelry piece, you are looking for shop no further. The wide assortment of items the DIA has available will assure that no matter what style you prefer or what price range, you will find the piece just right for you and your occasion.
The Detroit Collection of jewelry includes names: Fordite, Calliber, and Graffiti. In the Museum Collection are pieces inspired by Africa, Egypt, Asia, Classical and Ancient lands. The Fine Jewelry Collection features watches, necklaces, earrings, and bracelets of all kinds.
If you are looking for a pop-of-color, make sure to check the Fashion Jewelry Collection; their unique Glass Alien Necklace might be just the perfect thing for you.
Pictured above is one of our favorite looks, the Rainbow Icicle Necklace for just $69.95. Softened shards of rainbow-colored resin adorn a stainless-steel wire necklace, adding a spectrum of hues to your look. A look that you can wear day or evening depending on what you decide to coordinate with it. The necklace measures 17 inches in length plus a 1.5-inch extension chain.
Tee Shirts to Promote Arts

The DIA shop has some fabulous t-shirts that coordinate with the art and the museum exhibits, like the Ruben and Isabel Toledo "Labor of Love, that is going on now until June that you will not want to miss. This exhibit honors Detroit's history of industry, modernization and the DIA's vast permanent collection.  The husband and wife artistic team, Ruben and Isabel, created a series of new works interspersed across numerous collection galleries. Inspire others to come to support the arts by wearing the Toledo's Labor of Love logo tee.
For more on 2019 Fashion trends click here.  Enjoy your new year in artistic style!
Disclosure – This post may contain affiliate links. By clicking and shopping, you help support Detroit Fashion News and allow us to keep reporting on all things fashionable.