The Best Suit Trends to Get Covered for 2019
Detroit Fashion News has you covered for the beach this summer with the newest and greatest bathing suit trends for 2019. The fun part is, there is something for everyone and every body type this season.  Confidence is beautiful and this season's swimsuit trends ooze confidence.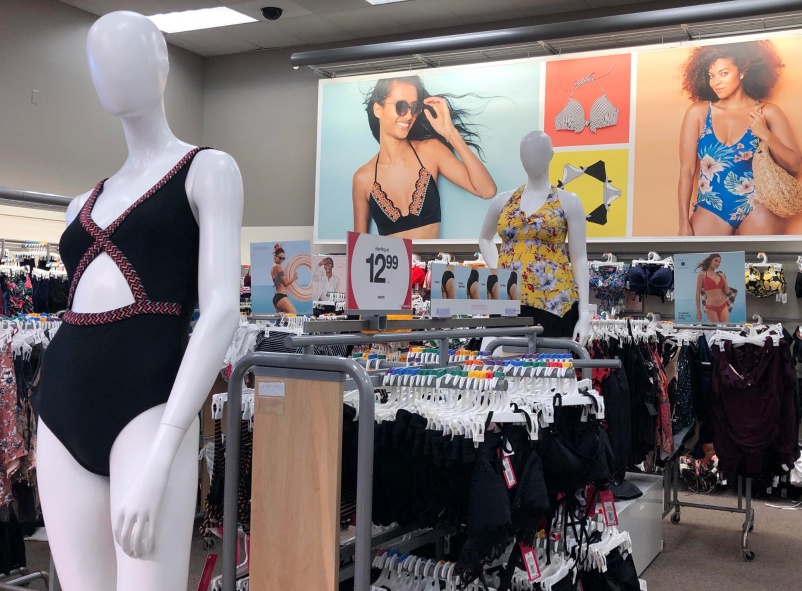 What to look for when shopping for 2019 swimsuits:
Rust Color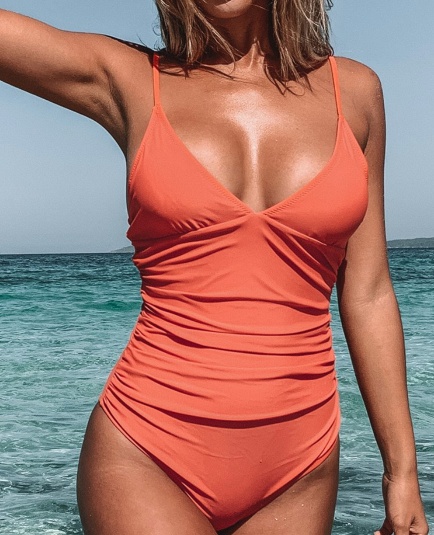 CUPSHE Bright Day Shirring One-Piece Swimsuit, $29.99 available at CUPSHE.
All shades of rust, all hues. Pick a shade that compliments your skin tone. Darker shades include colors likes Amber, Clay or Spice; lighter shades include Sandstone, Bronze, Cider, or Ochre. Check out the lovely Chirring One Piece by CUPSHE.
All Tied Up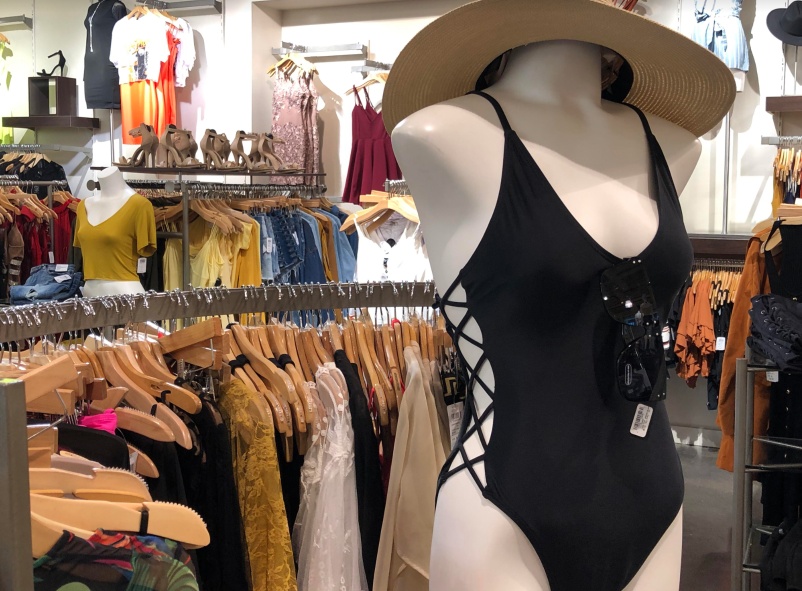 Black Lace-up Sides One-Piece $38.90, Hat $14.90, both available at Windsor.
Bathing suits that have creative ties and lacing are everywhere. The most popular choices are ties in the front, lace at the bust and laces on the sides.
Hardware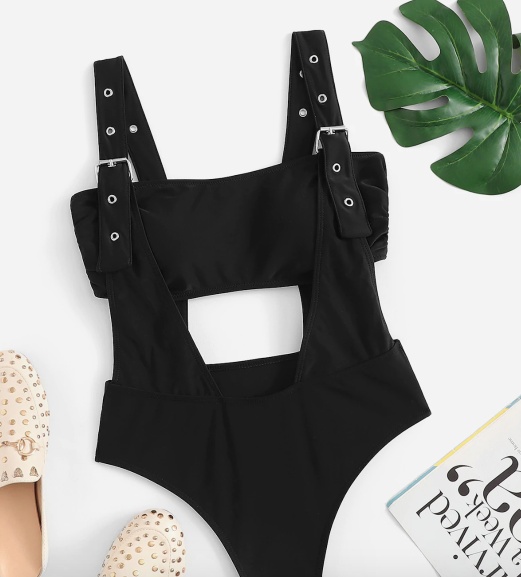 Seam Bandeau Top with Eyelet Buckle Suspender Swimsuit, $13.95 available at Romwe.
If you're looking for an edgy look, add a suit to your collection with a metal ring or other hardware. Hardware adds interesting details to any suit with a bit of a "strong girl" vibe.
High Shine Metallic Fabrics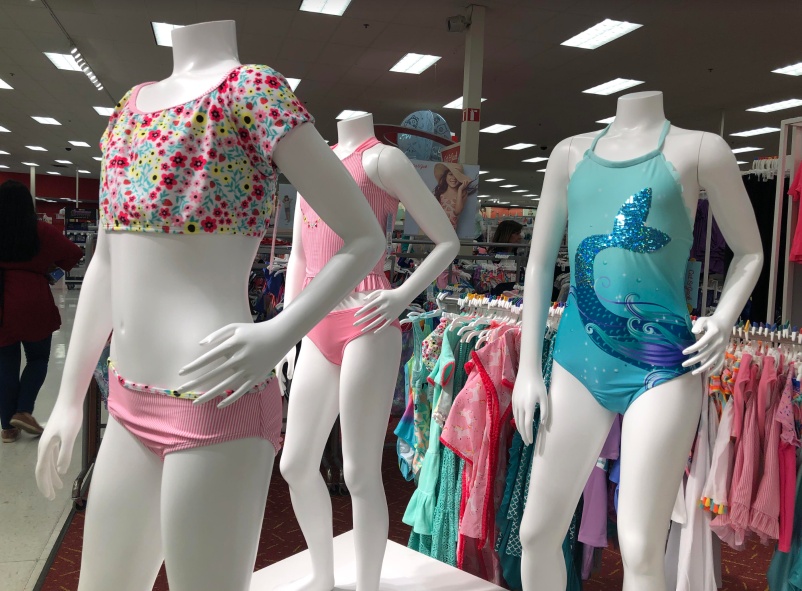 Children's suits with shimmer & shiny fabric available at Target.
Shiny fabrics are not just for the club and holiday attire anymore. And they're not just for adults! Choose a mommy and me suit set or play off of each other's favorite colors to coordinate on beach day. The sun won't be the only thing shining!
Animal Prints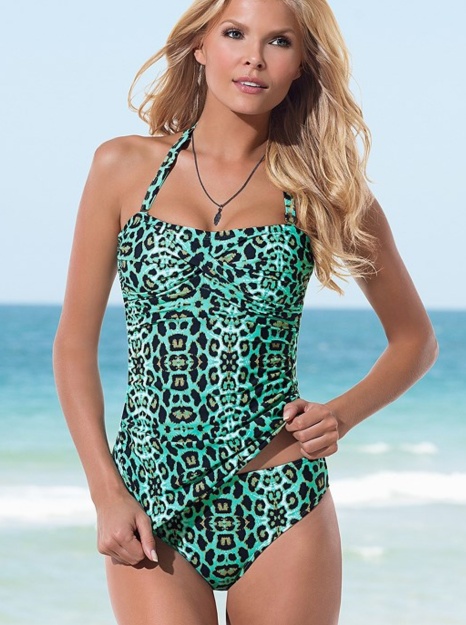 High Waist Moderate Bottom Mint Animal Print Suit, $4.99 – $32.00 available at Venus.
Be on the hunt for styles that let your inner animal roar! We love this mint animal print from Venus.
Candy Stripes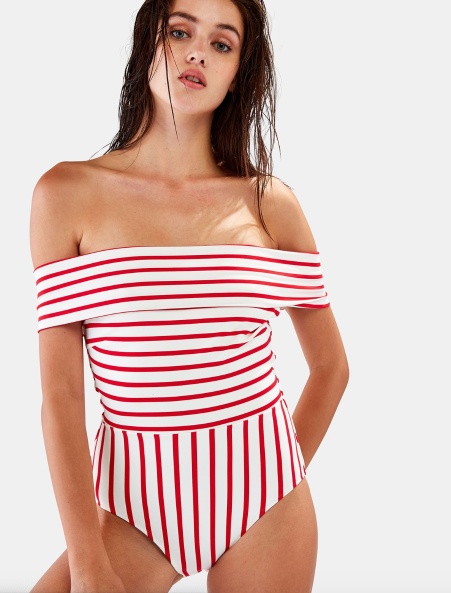 The Vera, $101.00 available at Solid & Striped.
Stripes are So Sweet! Multicolor, or two tones, this season proves candy isn't just for the movies. Here is a link to something delicious from Shein. Their low back colorful striped one-piece swimwear is right on trend.
Feminine Frills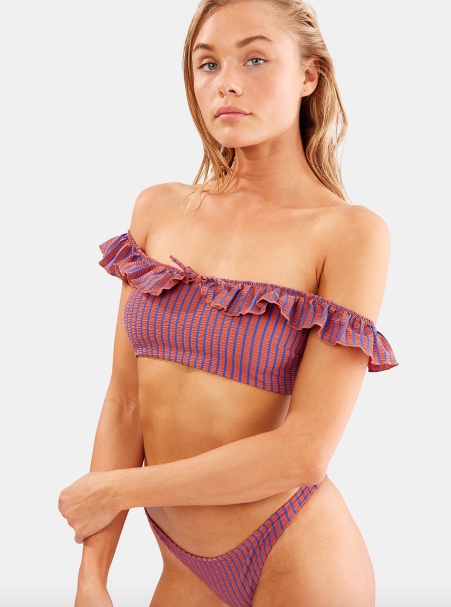 The Paloma Top and Bottom, individually sold for $84 each available at Solid & Stripe.
No matter what your size add a little, or a lot, of femininity with ruffles and flounces to flatter your shape. Any list of where to get a great suit is not complete without adding Ashley Graham Swimsuits for All.  Check them out! Are you looking for lace detailing and appliqués? Click on the link for a beautiful Red lace one-piece suit with flounce off the shoulder ruffle.
High-Cut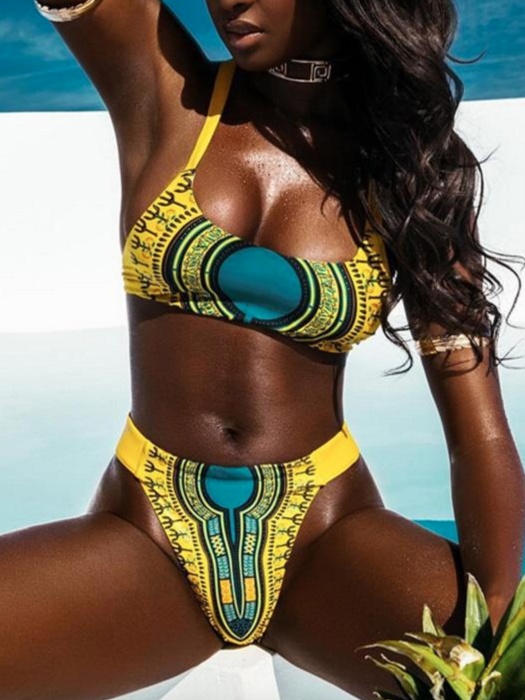 E&C Yellow Blue African Print High Cut Cheeky Sexy Bikini Swimsuit, $22.85 available at Elle Chic.
The high-cut trend has been around for a couple of seasons now and high on our favorites list. Pairing high-cut bikini bottoms with a wide waistband adds a flattering finish on the waist.
More Places to Find Swimsuits:
Diane's Professional Bra and Swimwear is a great local find located at 3181 Fort St Wyandotte, Mi. It's a great local shop that will help you find the right swimsuit for your size and shape.
Everything but Water has been around for more than 30 years and is one of the most popular brands in the swim fashion market. According to their website, "Everything But Water's team, led by wife and husband Sabra Krock and Randall Blumenthal, focuses with great pride and attention on every aspect of your shopping experience, from the most exciting designers to passionately trained sales associates. We find it first, build an unparalleled assortment and present it to you in an easy-to-shop environment in our stores or on our leading website. Our Sales Associates are deep category experts on a mission to fit and flatter you perfectly."
Zaful is another fun option. We know you are eager to add some bold colors and playful prints to your bathing suit collection. With ZAFUL, you can find super cute one-piece swimsuits and bikinis in designs you've probably never seen before, plus a variety of styles to frame any silhouette. This retailer also runs sales constantly, so you're guaranteed to save money shopping at Zaful.
Readers Also Recommend:
Target carries a variety of swimwear for the entire family. (Refer to the children's swimsuit photo above).
For more interesting DFN reads go to:
5 of the Best One Piece Swimsuit styles for 2019
Silver Trends and Blingsting: The Accessory That Keeps You Safe
Disclosure – This post may contain affiliate links. By clicking and shopping, you help support Detroit Fashion News and allow us to keep reporting on all things fashionable.