Dr. Segal's Stylish Compression Socks You Need For Your Next Trip!
Travelling for NYE or heading home after a good family visit over the Holidays? You might need compression socks to make sure your trip is more comfortable this time. Ever notice how tired you feel after traveling? You might have ridden in a car or a plane half of the day, but the sedentary confinement impacts our muscles and circulation causing leg fatigue and swelling. Has that ever happened to you?
If you answered yes, you could use some compression therapy. Dr. Segal's offers fashionable options for this must need item of clothing. Keeping the medical technology and adding style and design, Dr. Segal's presents a compression sock (offered in different prints and colors), men and women will enjoy wearing.
Dr. Segal's Everyday Collection provides fast relief for anyone experiencing tired, achy legs or mild swelling after a long flight or car ride. The mild compression is perfect for travelers who remain sedentary and cramped for a lengthy period of time.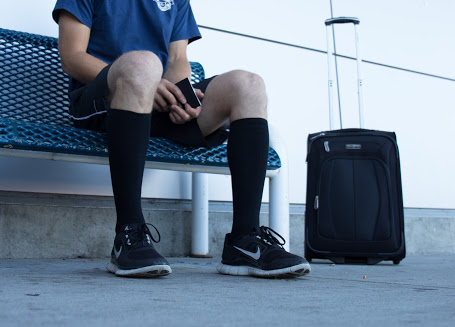 These socks just aren't fun to wear, they also offer the following features:
Socks are available in a breathable, cotton blend instead of nylon
They have a wide-top comfort band to prevent pinching, chafing and rolling down
Antimicrobial and silver-ion wash for odor and stain protection
They have terry cushioning in the toes and heels for extra comfort
The socks entail a flat-felled seam construction for no lumps or bumps
So the next time you have to travel, choose a sock that not only looks great but does great things for your body as well!
Are you a Diabetic? In addition to the Everyday Collection, Dr. Segal's offers Diabetic and Medical Compression lines so no passenger has to travel in pain or embarrassment. The benefits and special features to this collection include:
Seamless Construction

:  Flat-felled seam prevents rubbing that can cause blisters or ulcers.

Loose Knit Top Band

: Dr. Segal's non-constricting top band for a comfortable and gentle fit that is perfect for diabetic patients or people with diminished sensation.

Extra Padding

: Terry Cushioned Foot Bed provides extra padding and cushioning for sensitive areas to enhance comfort and help prevent injury.

Moisture-wicking

: Dr. Segal's Diabetic Socks use HYDROCOOL® Moisture-Wicking agent, keeping feet dry to prevent skin infections.

Anti-microbial

: Ultrafresh® Anti-microbial treatment prevents bacterial and fungal growth.

Made with a premium cotton blend, providing natural breathability that is soft to reduce rough abrasion on the skin.
While Dr. Segal's Diabetic Socks are specifically designed to meet the comfort and health requirements for diabetic patients, anyone can benefit from wearing them. Click HERE to view the collection.
Disclosure – This post may contain affiliate links. By clicking and shopping, you help support Detroit Fashion News and allow us to keep reporting on all things fashionable.