Detroit Natives Celebrate the Launch of Maison Black with a Presentation of Their Seasonless Capsule Collections
Online fashion brand Maison Black kicked off their launch celebration in Detroit last night with an in-person presentation of their capsule collections. The four-day launch started with a private, invite-only fashion show at the Ford Piquette Avenue Plant and will continue today through October 23, 2021, with a pop-up shopping experience located at Shinola on 441 W. Canfield Street.
During the pop-up experience, the designers will be present to meet and greet guests and the collections will be available to view and purchase.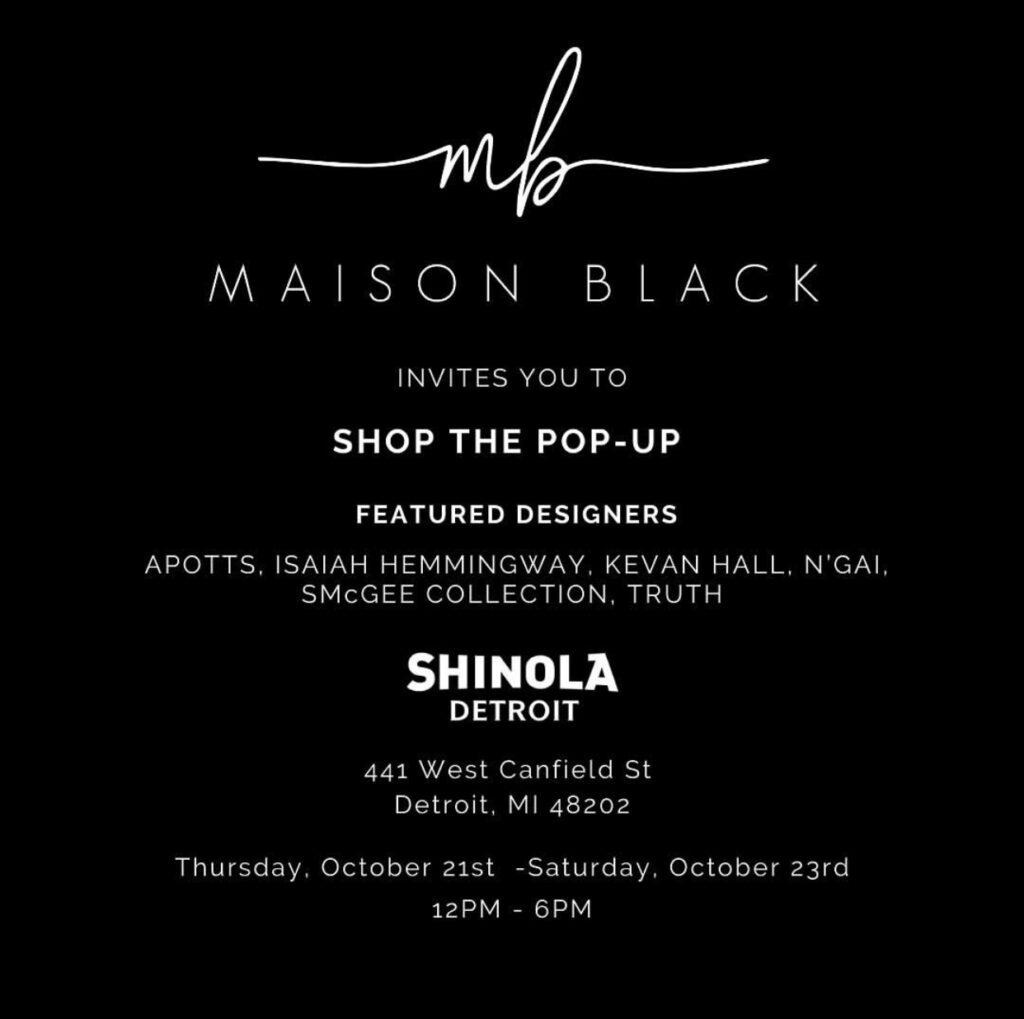 Tori Nichel, founder and chief creative officer of Maison Black is a graduate of Fashion Institute of Technology and Michigan State University. She has extensive experience in the fashion industry including once working as a senior designer at Kenneth Cole and head designer at Tibi. Nichel currently is the design director at Kohl's and is the designer of her own namesake brand.
Maison Black consists of six black designers, all from Michigan, who offer accessible luxury fashion. All six presented their collections in the "Manhattan to Motown" show and are listed below.
Maison Black Designers
Aaron Potts: APOTTS – Aaron Potts was born and raised in Detroit. He attended Parsons School of Design in NYC and then went on to design for Emanuel Ungaro, Anne Klein, Victoria's Secret, Escada, Badgley Mischka, Ellen Tracy, Kaufmanfranco, and Tamara Mellon. His brand APOTTS is a unisex collection of modern clothes that are versatile and trans-seasonal.  His designs have been featured in Allure, Vogue, and WWD. He is the recipient of the 2021 Fashion Group International Rising Star Award for All Gender Product.
Kevan Hall – Kevan Hall is no stranger to our local fashion community. We've enjoyed his appearances at Fashion in Detroit and FashionSpeak among other local shows and events in-between. Kevan started his career as Design and Creative Director of Halston in 1998 and has dressed celebrities such as Celine Dion and Sharon Stone. Kevan launched his signature Kevan Hall Collection in 2002 which put everyone in awe and earned him the 47th Annual Gold Coast Fashion "Designer of the Year" award in Chicago the same year. Since then, Kevan is still creating and winning awards. He's also leading by positive example for young designers as the founder of Black Design Collective, a program that offers young costume and fashion designers support such as scholarships, education, and business workshops & mentorships.
Isaiah Hemmingway – Isaiah Hemmingway is a designer originally from Detroit who loves to work with bold colors. Isaiah is a fit consultant for top brands such as Tory Burch and is known for his exceptional tailoring techniques. His work has been featured in GQ, Robb Report, WWD, and Casey Kaplan gallery.
Nicole King: N'Gai – Nicole King, a Parson's graduate, has been hustling in the fashion industry for almost 30 years. She is known for her work with Ralph Lauren, Seven For All Mankind, DWP, and Ever Worldwide. Nicole recently launched her own capsule collection: N'gai… (n-gay) and featured her pieces in the Manhattan to Motown show in Detroit.
Sharryl Cross: Truth  – Sharryl Cross is an American Artist and Fashion Designer from Detroit who built a successful career in fashion for brands like J Crew, Juicy Couture, and Elizabeth & James for Kohls after graduating with a Bachelor of Science in Apparel and Textile Design from Michigan State University. Sharryl recently moved back to Detroit and launched her collection called TRUTH, which is a contemporary collection of dresses.
Shawna McGee: S. McGee Collection – Shawna McGee is a Detroit native and a Cass Tech graduate. She also attended and graduated from Parsons School of Design in New York City. Shawna has design experience with well-known fashion creatives such as Donna Karan, Louis Dell'Olio, and Adrienne Vittadini. Her work has been featured in WWD, Elle, Essence, and Vogue.
To learn more and to support the six black designers, visit and shop at www.maisonblack.shop. The Maison Black "Shop the Pop-Up" event will run October 21 – October 23, 2021 at Shinola located at 441 West Canfield Street, Detroit, from 12:00 pm – 6:00 pm.
Disclosure – This post may contain affiliate links. By clicking and shopping, you help support Detroit Fashion News and allow us to keep reporting on all things families love.