All the Rave Behind Slugging
By now, you have probably had your social media feeds flooded with posts about a popular skincare habit called "slugging". While there are mixed reviews on if slugging is actually beneficial to skin or if it just causes more harm than good— it has taken the internet by storm. 
Let's talk about it. 
If you don't know by now, slugging is the last step in a nighttime skincare routine where you just apply a thin layer of petroleum jelly atop your skin. The purpose behind doing this is to lock in moisture and help aid in HEALING dry skin. 
Sounds great, right? Sitting at your vanity, staring at your reflection after taking off the day's makeup, applying serums or eye creams, maybe even taking a gua sha to your jawline and then topping it all off with a slimy layer of petroleum jelly… 
While this method of skincare may seem relaxing or fun to hop in on the trend, there are pros and cons to it. 
PROS: 
Adds moisture to dry skin (especially nice during the cold winter months).
Creates a "seal" for all the other products applied before.
Could be seen as a relaxing process at the end of a long day, taking that extra step to "treat yourself" and your skin.
Promotes glowy or youthful skin.
CONS:
Could cause breakouts for some with sensitive skin.
May leave skin feeling oily.
It's a sticky mess! Since this is a nighttime skincare technique, going to bed after this can leave a disaster on your pillowcase or have your flyaway hairs stuck to your face.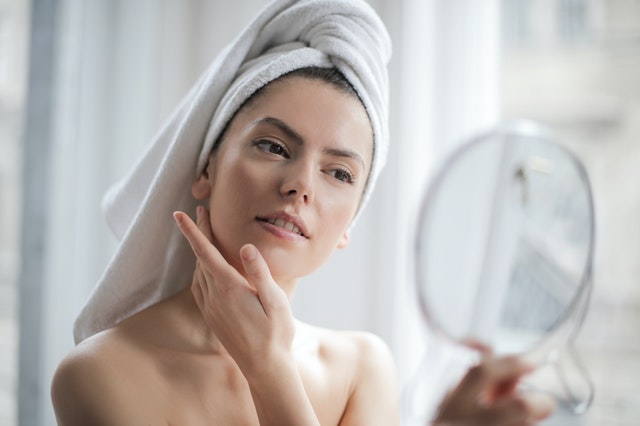 Taking a look at the pros and cons can help decide if slugging is the right addition to your personal skincare routine. For example— if you struggle with dry skin during the winter, maybe try slugging one night and see how you feel. 
It is important to remember that while slugging may be super beneficial and skin-changing for some, it will not always work for everyone. 
If you do decide to try slugging your face, I recommend taking a picture the morning before you add that extra step to your skincare routine and the morning after. Compare the pictures: do you feel or look more glowy after one regimen compared to the other? Does your skin look more or less red between the two pictures? Did you wake up with more pimples or breakouts than usual? 
Taking the time to analyze your skin and see how it reacts to not only slugging but any other change in skincare and upkeep can help you further understand what type of skin you have. Maybe even what you need to change or add and, overall, leave you feeling confident in your skin and your skills! 
Here are some popular TikTok links related to slugging. Is it for you?
http://vm.tiktok.com/TTPdhwpUVv – by EdwardZO
http://vm.tiktok.com/TTPdhw7Nqn – by Charlotte Palermino
Tell us in the comments below, do you prefer slugging? Why or why not?
Disclosure – This post may contain affiliate links. By clicking and shopping, you help support Detroit Fashion News and allow us to keep reporting on all things fashionable.