Five Tips for Successful Manufacturing
The only thing harder in fashion than running your own brand is launching a new brand!  Especially if you don't have help from insiders. But when it comes down to it, you've got to have a fantastic product first. That means you need a great idea, thorough product development, and excellent quality from your factory.  Taking you through that journey is the purpose of my company, and following that journey has been my focus for the past 22 years.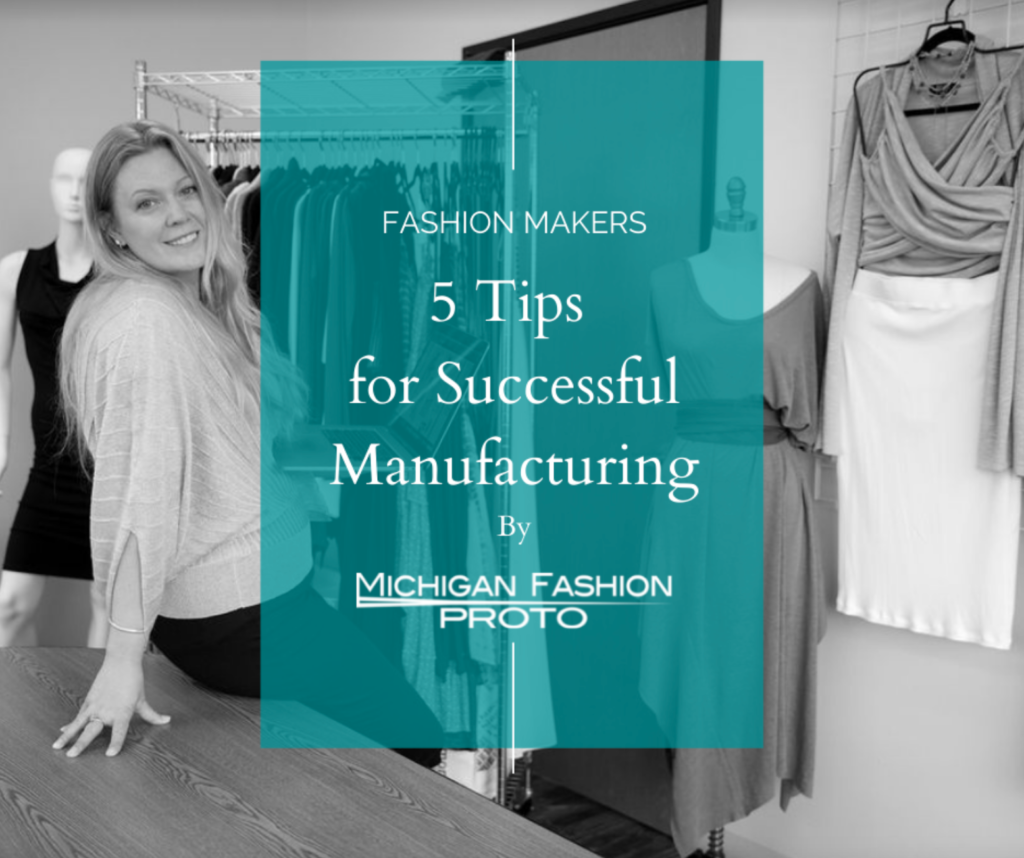 Here are some tips to get great quality from your factory:
Always Start with a Tech Pack
If you think making a proper tech pack is expensive and too much work, think about how much time and money you'll spend if a careless mistake happens in production because there was no blueprint to follow. Many entrepreneurial designers skip this step or just make a spec sheet instead of a full tech pack and it is always a mistake.  A good tech pack serves as your guide, your method of planning before you create, and records the history of your product. As we say, if you fail to plan, you plan to fail!
Make Sure Your Sample is Absolutely Perfect
First, you must completely love your product or nobody else will either. Second, and equally important, every little detail needs to be perfect.  The stitches, seams, fabric, fit, color, etc. should be thoughtfully put together. It is NEVER a good idea to proceed with production unless the factory has a "sew-by sample" to follow in every way.  Factories and sewers will consider that sample as 100% approved, and that sample will many times override a tech pack if there is a discrepancy in detail (even if a note is pinned to it).
Test Your Fabric, Trims, and Sample Before Production
When choosing fabric for your garment, you basically have to take your best guess.  My advice when selecting fabric is to always choose better-quality fabric even if it costs a bit more. After all, you can never get a great product out of bad fabric. Test for shrinkage and durability as well as make samples to see if the fabric works well for your product.  Once you have your sample, you enter into the phase of fitting and perfecting that sample size and the grading.
Order Enough Supplies for Your Production with Extra
When a factory runs out of a product in mid-production or mid-cutting, you lose your spot in their calendar and the production timeline starts over.  A factory will halt production in this scenario.  It can be further damaging because that team was prepped for your job, and they are then forced to plan out another job instead which can make your project flow disjointed. Not to mention it just looks unprofessional.  You should always assume that some of your fabric and trims will be damaged or will not be workable for some reason, so give an extra 5%-10% (depending on your overall quantity).
Give Your Factory Enough Time to Create Your Product with Quality
Time is hard to have enough of, so working ahead is planning for success. Rushing and pushing a sewing team to move faster on construction can sometimes affect the quality.  Therefore when a factory gives an achievable time for production it's good to confirm things are on track regularly, but it can be damaging to push for faster delivery. Positive, professional communication is very important.
If this is a journey you are taking, remember that you are a rare gem!
This is not easy, and if it was, more people would be successful at it! Just stay organized and enjoy the process!
Disclosure – This post may contain affiliate links. By clicking and shopping, you help support Detroit Fashion News and allow us to keep reporting on all things fashionable.