Detroit Fashion News Exclusive Interview with Detroit's Loren Hicks: LOJO
Being fully immersed in the fashion world is not something for the weak. It takes time, determination, and lots of hard work. Loren Hicks has been working for over 10 years to make Detroit a fashion hot spot along with bringing more fashion attention to plus-size women. 
Designing clothes for her brand LOJO while also being the CEO of Michigan Fashion Week, Hicks does not plan to stop anytime soon. We recently had the opportunity to speak with her in a one-on-one interview. Read on and learn how she juggles it all.  
DFN: How did you start your brand, LOJO?
Hicks: So LOJO was started back in 2012, the same year I started Michigan Fashion Week. I started because of what I had in mind and what I wanted to wear. I just could never find it on the rack. I wanted something glamorous that I could wear every day and I never saw it on the rack, so I dove into starting my own line. From there, it evolved into an exclusive plus size line because I saw there weren't many high fashion choices for women over the size of 12. Showing that over 50% of women in America are a size 12 or higher, I saw a need for creating a creative, fun, and playful plus-size line.
DFN: Amazing! Where do you get the inspiration when you're coming up with these pieces? 
Hicks: Good question, I definitely get inspired by what's on the runway all over the world. I do draw inspiration from the current trends and I also draw inspiration from just standing out in the crowd. Every time I dress, I dress for the purpose of standing out. My inspiration comes from being different, standing out, and also what the current trend is. 
DFN: You mentioned you said that you cater to women size 12 and above. Do you think we need more of that in the fashion community, other than your own brand, or are you taking any more steps to combat that issue?
Hicks: Absolutely, yes. I think it's very much needed because if half the world is 12 and above, how come half the fashion is not that same size? So yes, just doing more stuff by inviting more women size 12 and above on the runway, just helping women to have confidence in their own bodies and you don't have to show everything in order to be sexy. You can be sexy and still be fully covered, so just really taking those initial steps and embracing overall confidence in women no matter what size they are, period. 
DFN: Speaking of the runway, what sparked creating Michigan Fashion Week? 
Hicks: I just saw the need for it here. I saw Detroit and Michigan had lots of fashion talent from designers to models to fashion photographers and just encouraging people to stay here and utilize their talent instead of having to lose them to New York or L.A. Something needed to be created here to keep the talent here in the city and build a platform for people in that industry here in Michigan. You don't have to go out of state to enjoy what you love.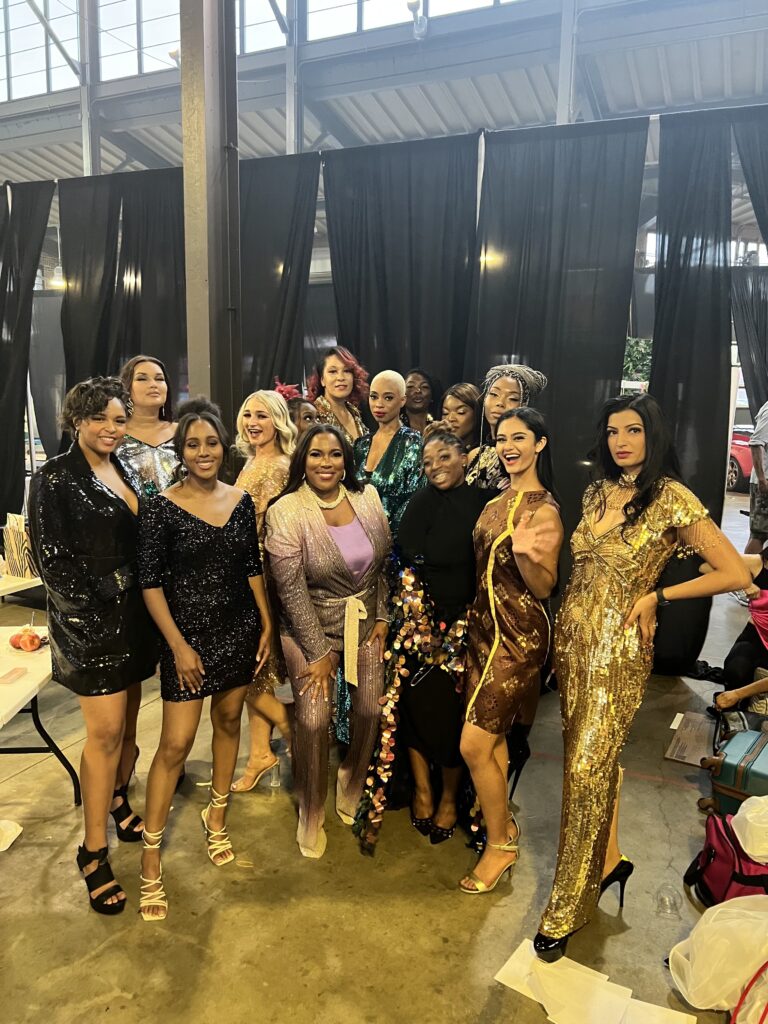 DFN: How do you balance LOJO, Michigan Fashion Week, and your own personal life, plus family? 
Hicks: You really just have to have a schedule and make time for everything. You have to pencil in a lot of different things so on certain days, I'm doing fashion work, other days I'm doing fun stuff with my kids. You have to have your schedule down packed. When I was younger I really didn't use a schedule but as I got children, I realized, 'hey, I need an actual schedule'. It's important to have an actual schedule so you can know what you can pass up, what you can say no to, where you need to be, what events you need to say yes to, and just strategically planning your day. 
DFN: That's right. Also, congratulations on hosting Detroit Drip. Can you tell me a bit more about that and what that was like? 
Hicks: Thank you, it was a very good organization out of Detroit. It was hosted by Black Leaders of Detroit which is an organization to help black businesses in the form of funding for business startups and funding for established black businesses. They had an overall contest that gave away over $25,000 to small black fashion businesses so that was very nice just to witness that. It was a really fun event full of great Detroit fashion people. 
DFN: Congratulations, again! What can we expect from you next? 
Hicks: Of course, definitely Fashion Week 2023, and also we're looking to host our fashion conference summit in spring 2023. I also want to still make strides in Detroit to really make Michigan a catalyst for fashion in the United States, that is our goal and we are all working towards that goal and we won't stop until we get the goal. 
DFN: And is there anything coming from your brand, LOJO soon?
Hicks: I actually will be coming out with a collection for the fall that will include some fur bombers, and fun sequin coats so look out for those within the next month or two. 
DFN: Exciting! That's good to know! Lastly, do you have any advice for someone looking to get into the fashion industry for the first time? 
Hicks: Good question, I would probably tell them, don't let other people discourage you. I know when most people hear fashion, they think it's some kind of a fun hobby that's not going to make you money and it's just something to do. But, fashion is a trillion-dollar business. It's a real sector in the world and if you have a passion for fashion: do not stop, do not listen to other people when it's regarding fashion. Just keep on doing what's in your heart because you are needed in the fashion community.
Fashion is not out, it's illegal to not wear clothes so we will always have clothes around us. Keep on going in the fashion world and just be knowledgeable about different opportunities for fashion, and people. Are you into photography, retail, buying, or designing— just explore all the different options to really find your niche. 
DFN: Well thank you so much for this interview, it was great to speak with you today. 
Hicks: Thank you. Great speaking with you!
Interested in shopping LOJO? Visit www.shoplojo.co. You can follow LOJO on Instagram @shoplojo.
To view the LOJO collection at Michigan Fashion Week, check out our Instagram Reel of the show by clicking HERE.
Disclosure – This post may contain affiliate links. By clicking and shopping, you help support Detroit Fashion News and allow us to keep reporting on all things fashionable.