The History and Mystery of the Fashion Stylist
A Collected Detroit and MM-O-DD Collaboration Featuring Chelsea Von Mach, AJ Martina, and More.
Metropolitan Museum of Design Detroit (a nonprofit organization providing the access to experiential educational enrichment opportunities through collaborative programming and exhibitions) and Collected Detroit are coming together for a showcase exhibition focusing on the history and mystery of the fashion stylist profession on Saturday, November 5th, 2022 from 6:00 pm to 9:00 pm. The event will be held at Collected Detroit located at 2439 4th St., Detroit, and is missioned to raise funds for the youth of Detroit and design programming including the opportunity to learn in-depth about the career of fashion styling.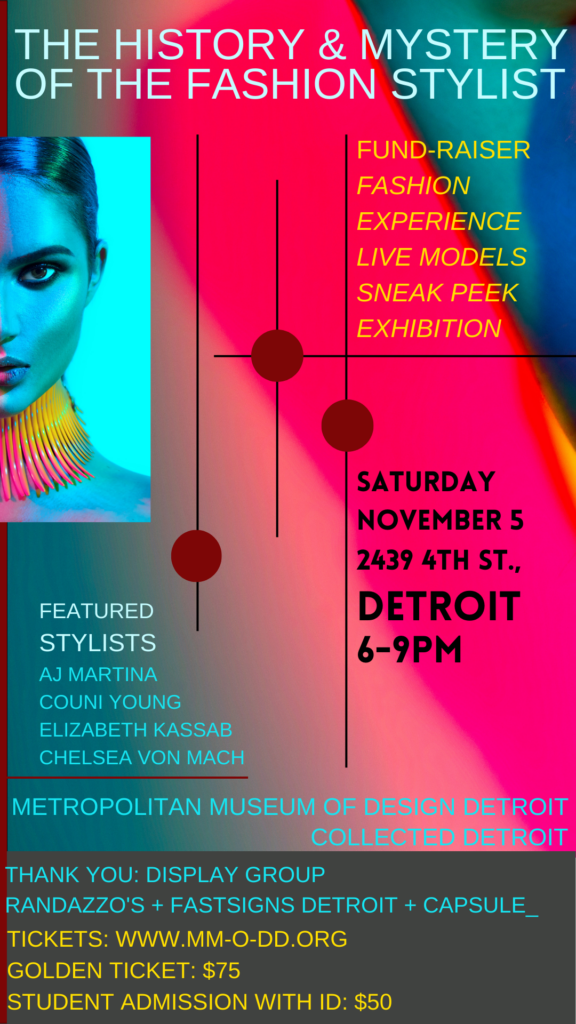 With the focus of the event being on fashion stylists, the art of styling, and the mystery behind the professional stylist, guests will have the opportunity to learn the history of the fashion profession and how it has evolved through time.
Local, Michigan stylists to be featured during the event include AJ Martina, Couni Young, Elizabeth Kassab, and Emmy Award winner Chelsea Von Mach. Attendees will be able to network with fashion professionals, educators and stylists as well as take a closer look at the styled outfits created by the featured stylists and inspired by over 200 pieces of art at Collected Detroit.
"With fashion stylists, there is a difference between taste and style. Taste is not taught it's more of a feeling, it's a talent, and being able to make a vision come to life. Style can be purchased." says Robere Lett, MM-O-DD Executive Board Member and Co-Creative Director.
The Scene: The History and Mystery of the Fashion Stylist will begin with the strolling fashion experience.  After the exhibition, the installment will be open to the public Wednesday through Saturday, 11:00 am to 5:00 pm, or VIP showings on Mondays by appointment only until January 21st.
Both MM-O-DD and Collected Detroit collaboratively support the city's creativity, talent, and design work toward spotlighting Detroit's art and design community.
If you would like to learn more about MM-O-DD and purchase a ticket to the event, please visit www.MM-O-DD.org.
Disclosure – This is a collaborative post as I am on the Strategic Social Council for MM-O-DD. This post may contain affiliate links. By clicking and shopping, you help support Detroit Fashion News, MM-O-DD, and Collected Detroit and allow us to continue supporting the Michigan Fashion Community.