5 Work-From-Home Wardrobe Essentials for Women
Work-From-Home Wardrobe Essentials. Do You Have These Items in Your Closet?
The shift toward remote work has made maintaining a professional yet comfortable work-from-home wardrobe essential. Investing in a few quality wardrobe pieces is not just about looking good on video calls but also about feeling confident and comfortable as you go about your day. Discover five work-from-home wardrobe essentials for women that will ensure you always look put together while enjoying the comfort of working from home.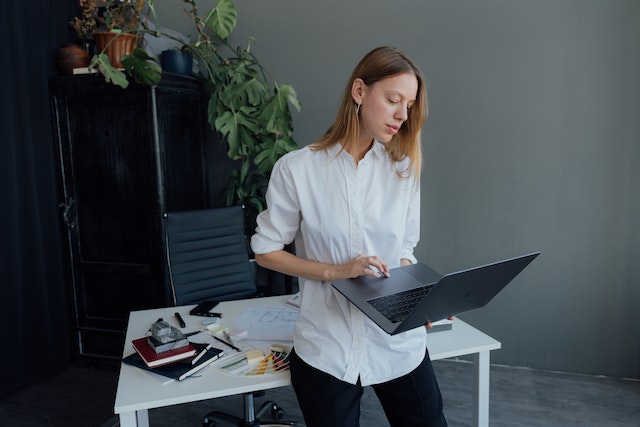 Stylish and Comfortable Tops
When it comes to virtual meetings, your head and shoulders are usually all people see. Opt for stylish blouses, button-down shirts, or sweaters that make you look professional and put together. Choose breathable fabrics like cotton and linen to keep you comfortable throughout the day.
Leggings That Double As Dress Pants
Why choose between comfort and style when you can have both? Invest in a pair of high-quality leggings that mimic the look of dress pants. These leggings will provide you with the comfort you seek while still giving you a polished and professional appearance.
Versatile Cardigans
Cardigans are a great option for layering and can instantly dress up any outfit. Keep a lightweight cardigan handy in case you need to throw it on for an impromptu meeting or for added warmth on cooler days. Choose neutral colors for maximum versatility.
Accessories That Elevate Your Look
Even if you're wearing the most basic clothing items, accessories can transform your look. A statement necklace or a pair of stylish earrings will provide extra polish to your overall appearance. Whatever you prefer to wear, the right accessories will help you look effortlessly chic in comfortable clothes.
A Go-To Dress
A comfortable, flattering dress can come in handy for days when you are short on outfit ideas. Choose a dress made from a comfortable material like jersey or stretch fabric so you won't feel restricted while working.
At the end of the day, it's essential that you feel confident and comfortable in your work-from-home attire. Investing in these five work-from-home wardrobe essentials for women will allow you to develop a versatile wardrobe that combines style, comfort, and professionalism. So go ahead, declutter your closet, and create space for these wardrobe staples to make your work-from-home experience more enjoyable and productive.
Photo – Antoni Shkraba
Disclosure – This is a collaborative post and may contain affiliate links. By clicking and shopping, you help support Detroit Fashion News and allow us to continue reporting on all things fashionable.