Achieve Balance & Harmony
Go for the Green Fashions!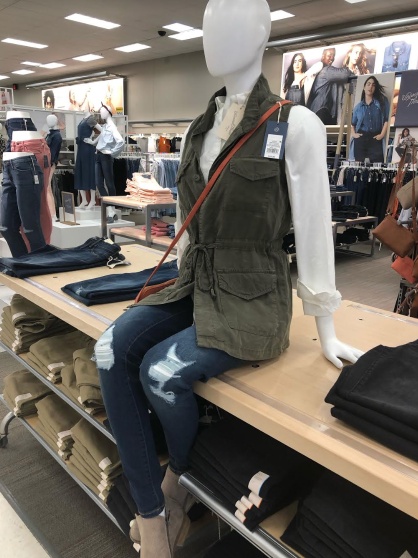 Have you ever looked at a garment and shyly turned away from it due to its color, refusing even to attempt even to try it on? Well, we would love to encourage you to change your mindset and start exploring your fashion options starting with the color green, a color synonymous with balance and harmony.
Green is the color of balance, harmony, and growth. Green is also the color of growth, the color of spring, renewal, and rebirth. In the world of meditation, it is known as the Anahata Chakra which means "unstuck, unhurt and unbeaten." It is the color associated with the heart and symbolizes health, prosperity, and abundance.  Green renews and restores depleted energy. It is the sanctuary away from the stresses of modern living, restoring us to a sense of well-being.
We all could use some balance and harmony in our lives so –  Let's go for the green! Let's go for a renewed outlook on the way we style and wear green fashions.
There are many shades of green and just as many ways to wear each of them. Green is one of those colors that sometimes can be more difficult to figure out how to wear. Here is a breakdown some of the ways to make it easier for you.
Solid and Bold
From bright shades of Kelly and Emerald Green to Chartreuse, green is a great color to pair with crisp white or to wear solid and bold – like in an elegant formal dress. If you are going out to an event, whether casual or dressy, green can make the most fabulous statement all by itself. Another benefit is that you can accessorize most greens with either silver or gold jewelry.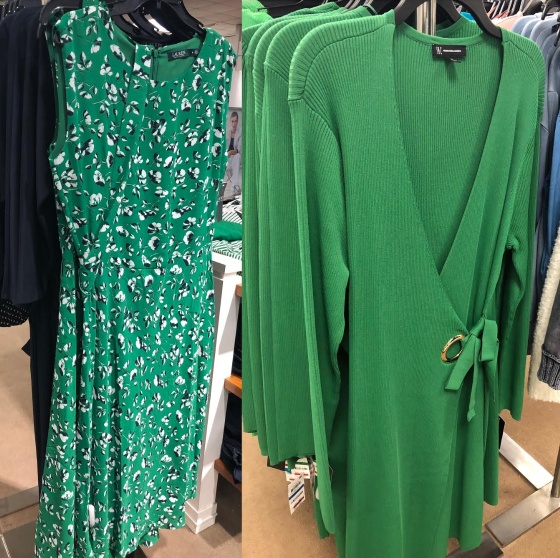 Ralph Lauren Floral-print Jersey Dress and I.N.C. Wrap Sweater Dress available at Macy's.
These two dresses are perfect examples of bold green looks, both available at Macy's. Both can be worn throughout the spring and summer months.
Complimentary Colors
In the world of color theory- harmony refers to the property that certain aesthetically pleasing color combinations have. These combinations create delightful contrasts and consonances that are said to be harmonious. The easiest and fastest way to achieve harmony when picking out what goes with color is to refer to the color wheel. A complementary color is a color that is directly across from it on the wheel. For example, green's complementary color is red, and it makes for a great combination.
But in this case of green, the combination should be avoided for the most part (except during the month of December) for the obvious Christmas vibes it invokes. What you can due to work around this is to vary your shades. So play around with shades other than Christmas tree green and Santa red, and you might stumble onto something fun and unexpected. An example would be a lighter green with a rich coral color.
Fun Florals
What goes better with green than flowers. It is natural! It is a fabulous way to accent your solid green shades by mixing them with a beautiful floral print skirt, skirt or accessory. Green and Floral scarves are a must have so go ahead and collect "many."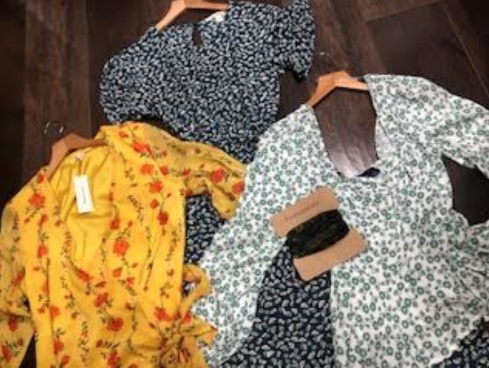 Francesca's inside Southland Mall (Taylor, MI) carries a nice assortment of floral dresses, shirts, and accessories. We found a green floral print bandana/scarf on the clearance rack for just $7.98 and tops & dresses for $48. Sizes vary from xx-small to x-large.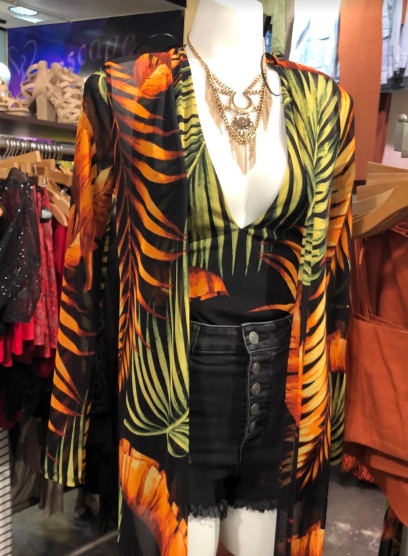 We especially loved this Tropical print mesh vest and bodysuit combo at Windsor, paired with button front black denim short. Windsor's also had a wide assortment of hunter green formal dresses.
Beautiful with Black
For a mature and sophisticated look style a darker green with black and gold accents.
Timeless and Versatile Olive Green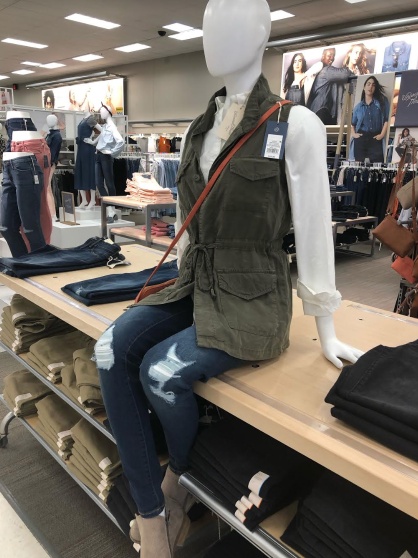 Olive Military Utility Vest, available at Target. 
Olive green is one of the most timeless and versatile colors in our wardrobes. From its roots in military history through years of interpretation in the fashion industry, it has endured as a lasting and iconic shade to wear when you want to feel grounded, cool, and casual. Denim is a must have with olive. Denim jeans, jacket or even a cute chambray shirt or skirt are in perfect harmony with olive green shades.
I hope this helps you to achieve great balance and renewed energy in the months to come.
Go for the Green!
More on Hair trends for 2019.
For ideas for St. Patrick's Day Snacks for Kids.
Disclosure – This post may contain affiliate links. By clicking and shopping, you help support Detroit Fashion News and allow us to keep reporting on all things fashionable.