DFN Welcomes Spring with Florals in Fashion
Whether you are a wildflower or an elegant rose, florals in fashion can express your vibe perfectly.  You just have to find the perfect bouquet.
So, I went to the mall.  I'm normally an online or boutique shopper but decided to check out the local scene and get some exercise, too.  Wow! I was amazed at the variety of floral fashion in just about every store.  Garden petals, palms, and leaves are expressed in numerous designs on trend this season, from dark backgrounds to monochromatic splashes or bright rainbows and pastels.  The theme here is that this Spring, there is literally "flower power", as in the 1960s.
Before we discover local finds, let's discuss a bit of floral history.  Think of the early Egyptians or Greeks.  They used leaves and flowers for their crowns. Toille, often used in drapery or wall coverings in France in the 18th Century inspired queens to take floral motifs to their over the top dresses.  Then, let's not forget the dresses on the Prairies of the United States that were made of hundreds of cotton fabrics also used for quilting. Amazingly, floral prints go as far back as the 12th century in China, where "fabrics beautifully embroidered with flowers and scenes of nature, were used in clothing", according to fashionologiahistoriana.com.
From toe to head, your options are endless in floral expression in today's trends. Check out the comfy, yet sophisticated shoes by Stuart Weitzman available at Nordstrom Rack.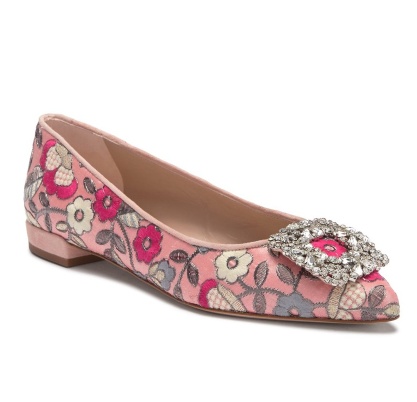 Stuart Weitzman Fetching Embroidered Floral Flat, $279.97 available at Nordstrom Rack.
Blossom accessories can also liven up a casual outfit. Imagine you are running out to dinner with friends and want to wear your jeans and a white blouse (classic).  Throw in a floral clutch, wallet or backpack purse and you are instantly trendy and current. For this kind of accessory, try shopping at Guess.
Red and white floral clutches $32.99, red and white backpack purse $49.99 and black and pink floral wallet $29.99 are all available at Guess.
Another impactful, yet simple and easy go-to floral is a scarf.  Most retailers carry a few of these and they call attention to your face, if around your neck or add a designer hint if tied on your handbag.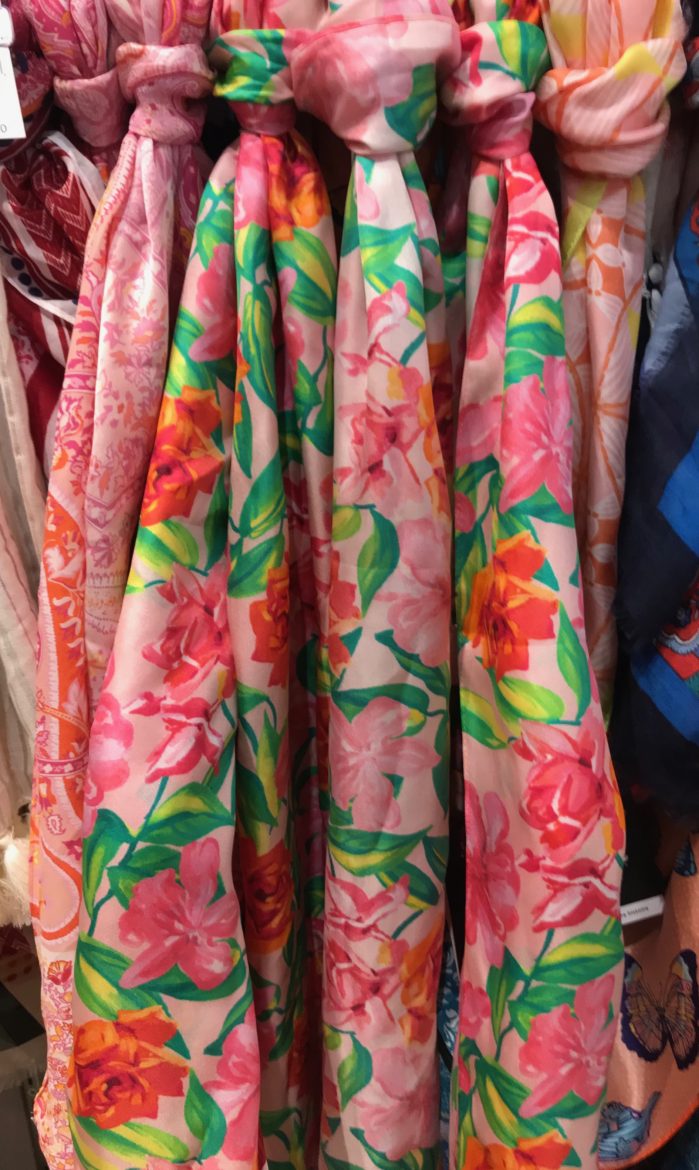 Florals have taken over every form of thread, including blouses, lingerie, socks, accessories, and jumpsuits.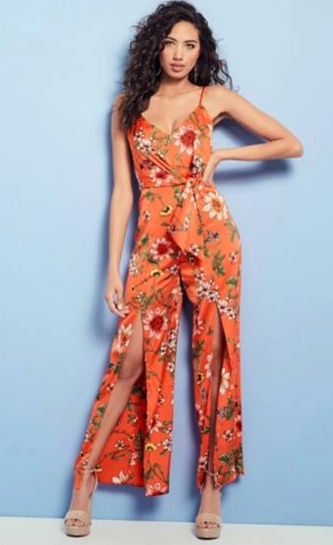 Isora Flora Tie-Front Jumpsuit, $108 available at Guess.
One can even find florals in menswear. Tommy Bahama has a great selection.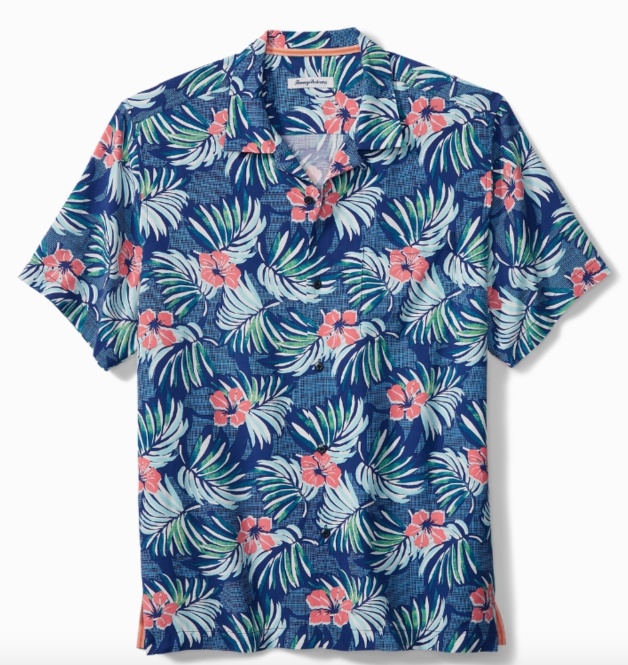 Marina Blooms Camp Shirt, $110 available at Tommy Bahama.
If you peruse fashion magazines through the years, you can see that floral clothing never really escapes style; maybe because nature is all around us and flowers represent beauty, color and often femininity.  What woman doesn't draw attention wearing a bright floral print sundress or silky scarf that whispers sweet nothings to the wind, as she drifts through a restaurant?  Happiness comes to mind.  Young, vibrant and lively would describe most floral garments, whether they be flannel, cotton or silk.  They are a safe standard for any wardrobe, be it this Spring or next. Give it a try!  Whether you're a woman or guy, florals are always fun and acceptable to wear.
Disclosure – This post may contain affiliate links. By clicking and shopping, you help support Detroit Fashion News and allow us to keep reporting on all things fashionable.