Art Imitates Fashion… Local Artist Creates Bright and Beautiful Woolen Scarves with an Intricate Art Process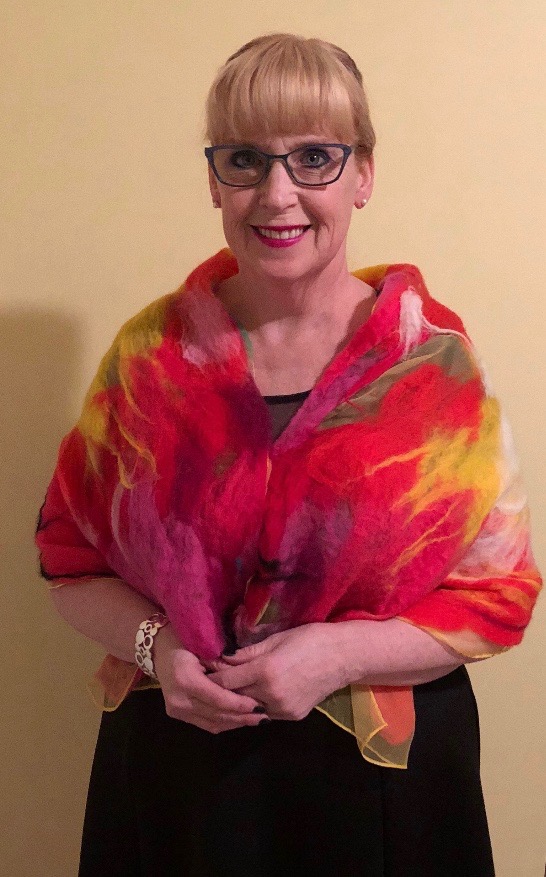 The creation of
fashion
is not only beautiful because of individuality and artistic allure, but also a tribute to the process of
art
itself.  We search high and low for that perfect garment or accessory to bring out the best in us. Maybe blue looks best on you or "brings out your eyes". Maybe that pillbox hat allows you to feel like an aristocrat out of the romance novels you used to read.  Simply put, fashion is an expression. Just as art conveys beauty and feeling and sometimes reveals the essence of its creator, so does fashion. Let's put together the artist and fashion designer and you get Patricia Richards, of Rochester.  She has found a particular niche in making distinct and beautiful scarves made from Nuno Felt.  What is that exactly? It's ultimately a beautiful, bright and special piece of wearable art.  Patricia is a true artist with a diverse background.  She loves to create and works hard to perfect the creative process.
DFN:  Where and when did the artist in you present herself?
Richards:  Basically from childhood.  I've been an artist all my life.  I studied at Detroit's Center for Creative Studies, where I majored in fine art with a concentration in portraiture.  My minor was printmaking.  My experience there gave me a solid foundation in my creative endeavors.
DFN:  So, what did you do with that education, exactly?
Richards
:  Many different things. I have been commissioned by people to do portraits in oil, pastel, and pencil.  I focused on adults, children, and even animals. I have worked at two stained glass companies as a designer and builder.  I would form and
design
a  stained glass window from beginning to finish. I have created handmade art cards and prints and in addition, created a life-sized bust of Jesus Christ out of clay for a church.  In addition, Patricia is a pastry chef.  She once owned a cake decorating business.
DFN:  It sounds like you are very diverse.
Richards:  I feel the need to try many types of art to evolve.  To do this, I use different mediums and techniques.
DFN:  So, how did you come across making your beautiful scarves?
Richards:  Believe it or not, I discovered this type of art on Pinterest!  It's called Nuno Felting.   I fell in love with the variety of designs and color combinations.  I began researching and took a class at The Paint Creek Center of the Arts in Rochester.  I took private lessons from a woman I met there, so I could learn different techniques.  ( Nuno felting was developed by a woman named Polly Stirling in the south of Wales, Australia around 1992.  The name is derived from the Japanese word "Nuno", meaning cloth. ..Wikipedia).
DFN:  Can you give us an explanation of the process for making a scarf? Are they completely wool?
Richards
:  I begin with Merino
wool,
named for a type of sheep.  I use that roving, which is a long and narrow bundle of fiber.  It has been cleaned, processed and dyed.  The scarves begin as 100 percent solid chiffon, which becomes the carrier fabric for the Nuno felt.
DFN:  Oh, so that is the foundation fabric and then you add the wool to it?
Richards:  Yes.  I begin to interlace the fibers, which strengthen the base of the felt.  This is done by laying short lengths of the wool, which I tear apart.  I lay them down side by side to form a layer.  Then, I do the same thing, laying the wool down perpendicular to it.  It takes time to build three to five layers this way.  This is called cross-hatching.  Once this is completed, I spray the Nuno with warm,  soapy water, which makes the fibers more flexible.
DFN:  It sounds sort of scientific.
Richards:  Actually, it is.  The soapy water changes the PH level of the wool, making it more alkaline.  That triggers the wool fibers together.
DFN:  Do you have to mold or shape the scarf into the desired shape?
Richards:   It's pretty physical.  I wrap the design in bubble wrap and felt the fibers with a combination of pressure, agitation and heat.  I press out the air with a Palm Washboard.   It is a wet felting tool.   The bubble wrap acts as a cushion and prevents distortion of the design.  Then, believe it or not, I use a foam swimming pool noodle to gently roll the piece and also work out any wrinkles.  The agitation begins when I aggressively roll the fibers on a series of textured surfaces.  This helps push out the air between the fibers.
DFN:  It sounds similar to making pie crust.
Richards:  Sort of…the wet fibers continue to interlock and compress with rolling and the wool and silk shrink, which produce contrasting textures.  In the end, it will be 30 percent smaller than the original size.
DFN:  Is it ready to wear at that point?
Richards:  Not so fast.  I still need to wash and rinse it with water and a bit of vinegar, which purifies it, so the soap will not damage it over time.  It also returns the PH level to normal…again science… and stabilizes the felt.  Now, I roll it in a towel to soak up the moisture and lay it on a table to dry.  Now, this handcrafted Nuno felted shawl is ready to wear.
DFN:  So,  how long is this process from start to finish?
Richards:  Most of the scarves and shawls take up to two days to produce.  It's very rewarding to create these colorful artistic fashion pieces.  I really enjoy the entire process.
Scarves range from $45.00 to over $180.00.
Patricia can be reached for custom order through her email at pattycakes_123@hotmail.com or cell at 248-705-7442
Disclosure – This post may contain affiliate links. By clicking and shopping, you help support Detroit Fashion News and allow us to keep reporting on all things fashionable.