Irina Tsuker Creates Wearable Art by Nuno Felting
Nuno felting is a design technique created in 1992. The name is derived from the Japanese word "nuno" meaning cloth. The technique bonds loose fiber, such as wool, into a sheer fabric such as silk gauze, creating a gorgeous felt that is thin and lightweight.
Detroit fashion designer, Irina Tsuker uses the Nuno felting technique to create some of the most beautiful, lightweight garments we have ever seen. A passion for fashion designing and a lot of patience, Tsuker's designs stand out specifically for the fashion lover who loves quality.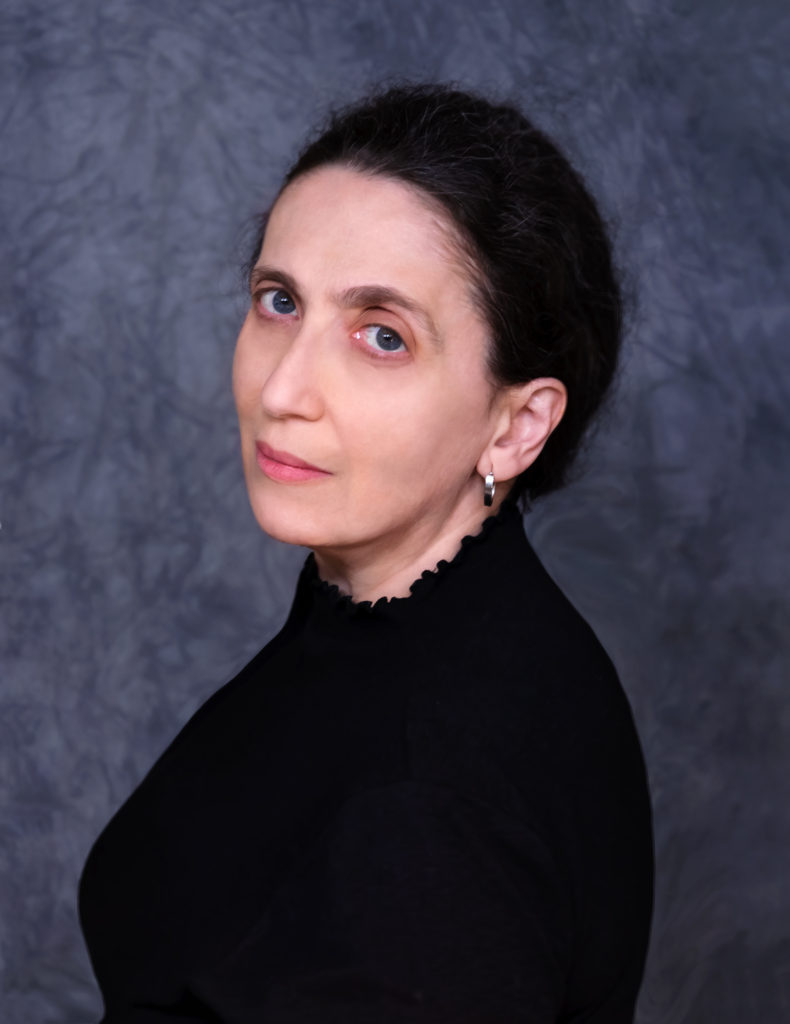 Read my interview below with designer Irina Tsuker to learn more about Nuno felting and her beautiful, wearable art designs that she hand makes, right here in Michigan.
DFN: Tell us about your designs and how you create them.
Tsuker: I make a product with a technique called Nuno felting. Felting is very ancient and is probably one of the oldest techniques created by humans. It has been existing for thousands of years. In 1992, a designer (DFN has confirmed the designer is Polly Stirling, a fiber artist from New South Wales, Australia) created Nuno felting. The technique allows us to take very fine, new material to create an exceptional product. When wool is felted, it's kind of thick and doesn't allow air to go through. It's very protective of the human body. And when we apply that on silk, it allows us to create a very nice foldable material which can be very easy to wear. This allows air to go through and it is very comfortable for our bodies.
DFN: When did you start creating your designs?
Tsuker: I learned about felting a couple of years ago, so it's been about two years. But, I've been sewing since childhood and it was always my dream to become a fashion designer. However, in high school, I was accepted to a very good fashion school back in the Soviet Union. But, my parents disagreed with my dream and told me I had to "have a real profession before I started to have fun" (laughing). Don't get me wrong I'm not complaining (still laughing). But a couple of years ago, I felt it was time to go back and do what I always wanted.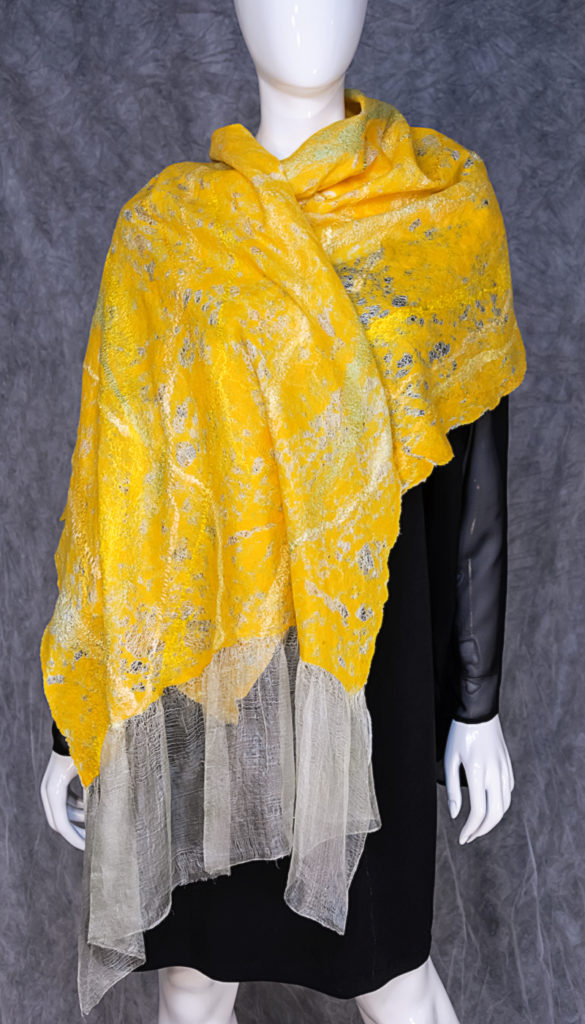 DFN: That's a great story. Thank you for sharing. So, your Nuno felting allows you to now create shawls, wraps, and dresses, is that right?
Tsuker: Yes. Shawls, dresses, shirts, sweatshirts, and vests.
DFN: Who would you say your best client is? In other words, what type of woman wears your designs?
Tsuker: My client is between the age of 30-90. I feel women that age appreciate quality. It's not about trends that change from yesterday to today. Once a woman is more mature, she thinks about quality.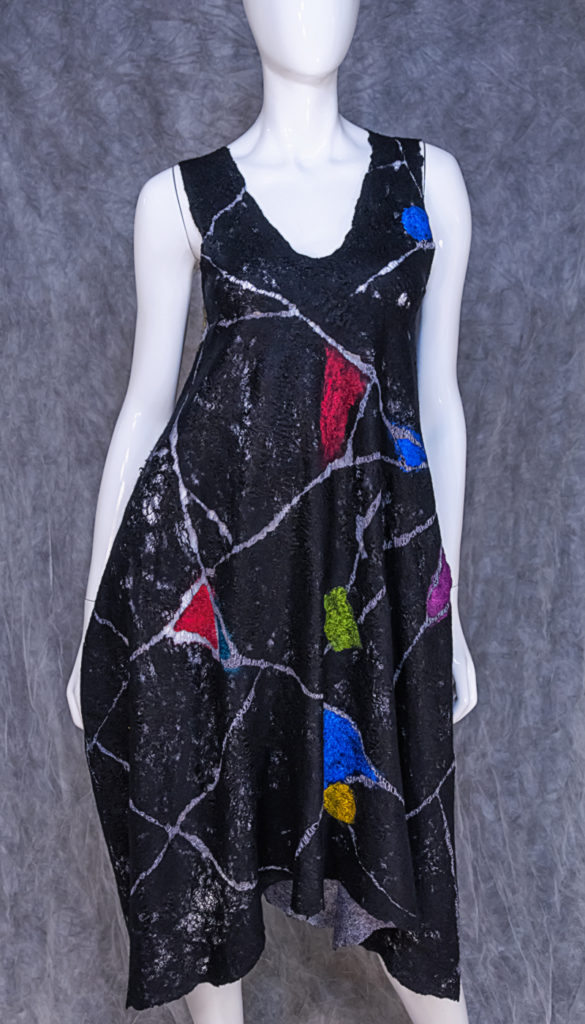 DFN: Where do you create your designs?
Tsuker: At home, in my basement.
DFN: Where do you sell your designs?
Tsuker: Amazon Handmade
DFN: Great! And, where can our readers follow and connect with you online?
Tsuker: I have Instagram @thestudioit and I'm on Facebook.
DFN: How did you come up with the name, The Studio It?
Tsuker: I want to make things that when people see them, they say, "That's It"! I want to create "It" pieces.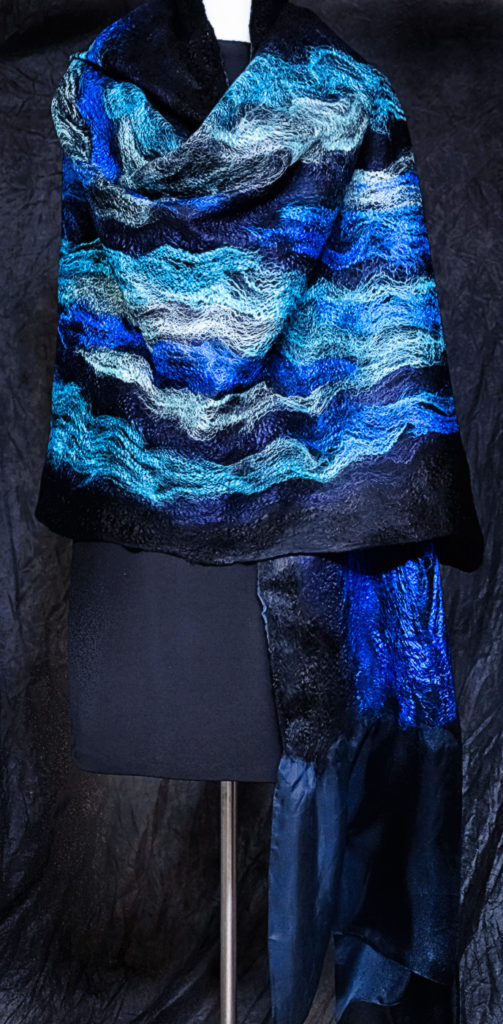 DFN: How long does it take for you to create one garment?
Tsuker: It depends. Basically between 25 and 50 hours. It takes time. It's all by hand. Shawls and wraps take 10-12 hours and for the other garments that have special beading, they can take up to 50 hours. If I work for 100 hours, I cannot sell those garments (laughing). But my daughter and nieces enjoy them very much!
DFN: How many garments typically do you create in a week?
Tsuker: It depends on what I'm making. If it's a dress, it takes me a week. For other garments, it can be longer. I make wearable art, so I don't want to lose people or lose the art of the garment, so it takes time to make sure I create the exact garment people want.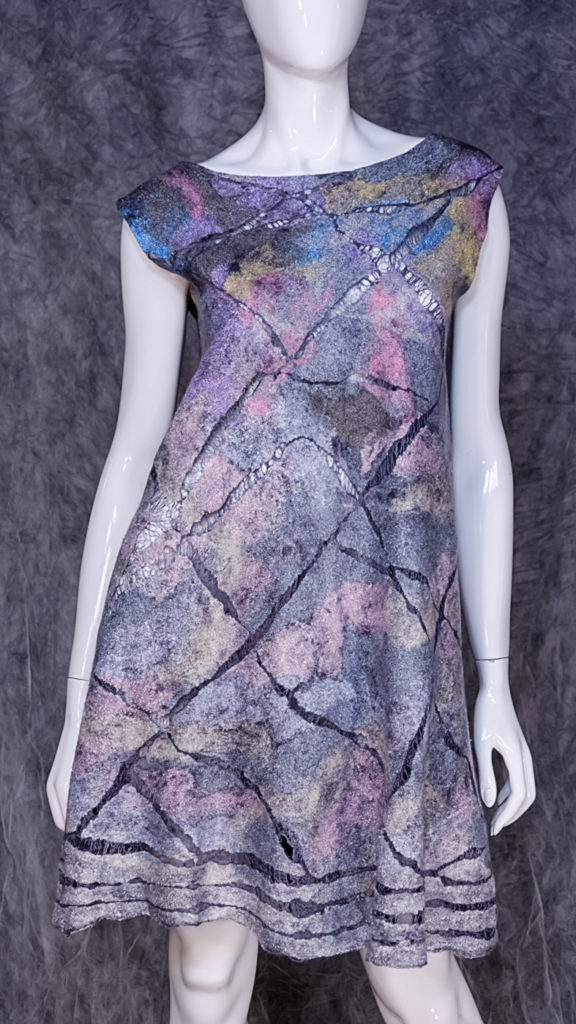 DFN: What are your favorite colors to work with?
Tsuker: It depends on the mood. I like to wear black (laughing)! But, I think that all colors can reflect your mood, your desire.
DFN: Thank you
Tsuker: Thank you!
Disclosure – This post may contain affiliate links. By clicking and shopping, you help support Detroit Fashion News and allow us to keep reporting on all things fashionable.