Fashion Experts Reveal the Most Flattering Swimsuit Styles for Each Body Type
Choosing the right swimsuit for your body type.
Summer is in full swing and we have some hot days ahead! The next time you go to the beach, what type of bathing suit will you be wearing? Let's talk about your options. I want to make sure you're looking your best and dressed in the right suit for your body type.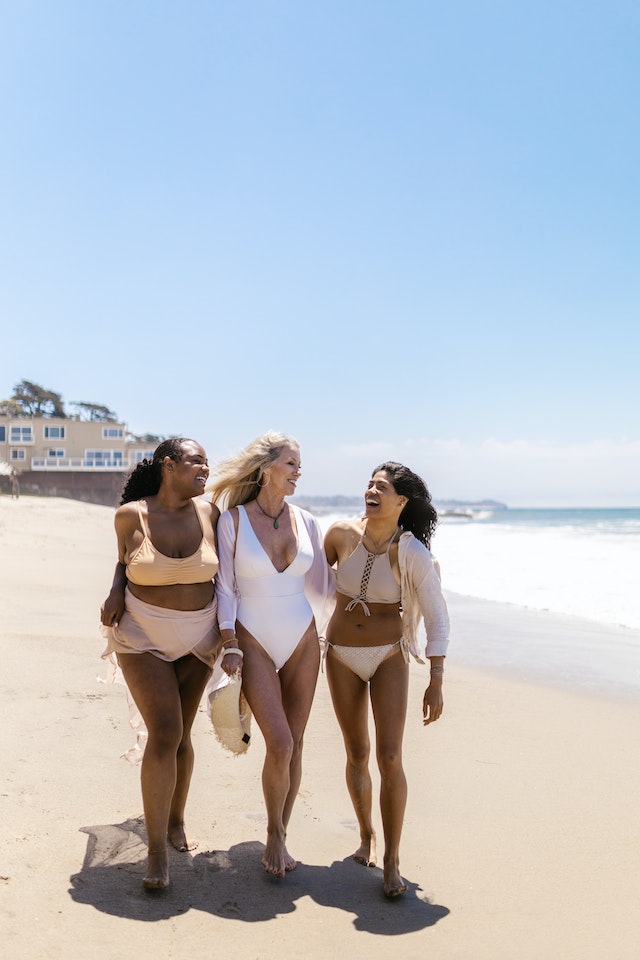 As searches for 'how to dress for your body type' hit an all-time internet high this year, I'm collaborating with Boohoo to make sure you are aware of the most optimal styles for your body type.  I want to make sure you're looking your best and feeling confident the next time you dip your toes in the sand.
Let's talk about body shapes to start. There are five main body shapes that women often use to categorize their bodies, however, styling for each body shape can be challenging without proper breast, waist, and hip measurements. Be sure to know you're measurements and what size your measurements are equivalent to when shopping for a bathing suit. It's important to make sure you're wearing the right size.
Check out our list of body shapes below. We're going into full detail on how to style each shape when it comes to wearing swimsuits.
Typically, in an hourglass shape, the bust and hips are close to the same while the waist is small. The term 'hourglass body shape' has 3,700 average monthly searches in the U.S. When looking at swimsuits to accentuate the body's natural curves, high cuts and plunging necklines are essential. For bikinis, a wide-strap top and high-cut bottoms are a good choice.   
A pear body type is among the most common, with around 25% of women fitting the mold. This body type has a small top that widens at the hips and bottom with a well-defined waist area and slim arms. In the U.S., the term 'pear body shape' has an average search volume of 13,000 searches per month.
To accentuate the natural curves of a pear-shaped body, look for layers of fabric or ruffles to add volume to the top for balance. A V or U-neck will draw attention to the cleavage and chest area. Try pairing a detailed top half with a plain, solid color on the bottom half when looking for color. An ombre one-piece swimsuit will also help harmonize a pear shape's silhouette.
An inverted triangle body shape typically has broad shoulders and a defined upper body. According to Boohoo, the term 'inverted triangle body shape' has an average of 8,600 monthly searches in the U.S. Swimsuits that add definition to the lower body are the most suitable to style this body type effectively.
A high-cut leg in a one-piece or bikini swimsuit will help draw attention toward the hips and legs. Celebs with this body shape include Victoria Beckham and Angelina Jolie who compliment their toned shoulders with A-line dresses and ruffles to look effortlessly chic.
Color is also crucial. Dark colors and solid colors both accentuate the lines of this body type, especially when worn as the top piece. This can be combined with patterns and bright colors on the bottom to help draw the eye. Adding volume to this body shape can be done by using ruffles or side ties on bikini bottoms.
Rectangle bodies often have shoulders and hips of similar width and few curves around the waist, hips, and bottom. The term 'rectangle body shape' has an average of 6,200 monthly searches in the U.S. Smaller busts are something to keep in mind when choosing a swimsuit for a rectangle body type, so padding to increase and enhance the bust (if you are comfortable with this look) is a good idea. Like the inverted triangle, suit embellishments in the hip area will help accentuate the hips and define the waist. 
The apple body type features similar measurements across the bust, waist, and hips, with the waist having little definition. This body type may also have slimmer arms and legs. With an average of 9,700 monthly searches in the U.S. for the term' apple body shape,' many women look for tips on how to dress up this body type. 
Since the waist has little definition with apple shapes, any one-piece swimsuit with wraps or tummy control will help to shape and define the waist area. Plunging necklines are also good as they draw the eye to the bust and make the torso seem longer.
There you have it. You now have the lowdown on different body types and how to choose the right swimsuit per each type. Is there a particular suit style you prefer? Share your favorite suit style with us in the comments. Got a great photo? Share it on Instagram and tag us @detfashionnews using #detroitfashion.