Keeping It Fresh with DFN's Ten Favorite
Summer Scents
Sun, surf, flip-flops, bathing suits, tan lines, barbecues, popsicles, long days… The pre-requisites for a storybook Summer. Another facet of warm weather is the chance to get outside, eat fresh fruits & vegetables and wear that little sun-dress with strappy sandals to hang with friends or attend that epic wedding on a vineyard.  So, just as important to complete your vibe is the aroma that subtly moves with you as you walk across the patio.  It's fruity or floral in nature and makes those in your space breathe in and move closer to you for more.
What is this evocative mood that you emit?  It's a fragrance that enticingly accompanies you to the party.  So, how do you choose the perfect Summer scent that speaks your name?  Check out these DFN top ten enticing fragrances for Summer.
Clinique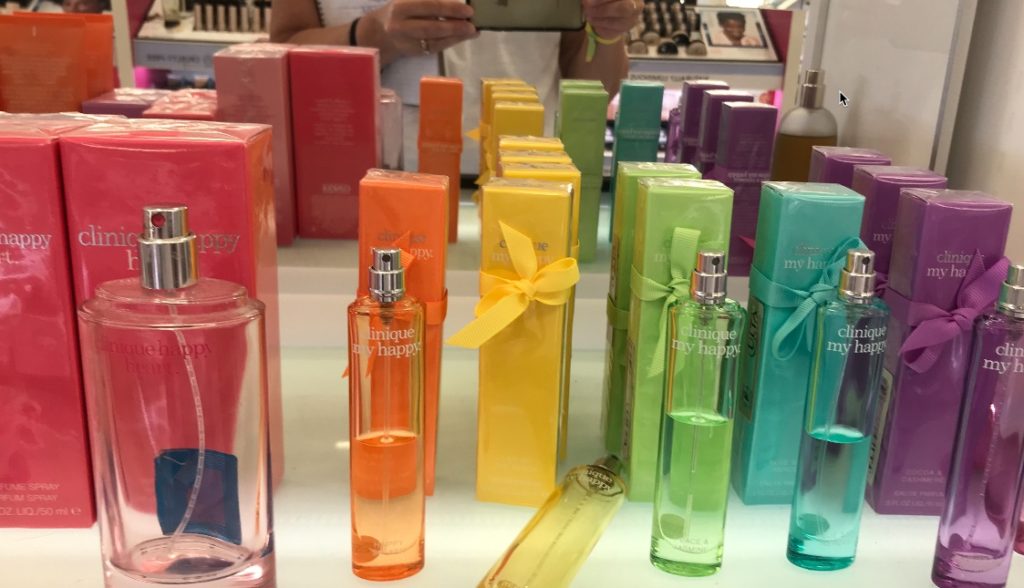 Clinique My Happy Summer Collection.   ($23)
This is first on the list because it offers several fragrances that can stand alone or be layered to fit any intention.  The bright colored bottles are beautiful and the aromatics are subtly different and all summer fresh.  There are six distinguishing scents, each with different notes.
Happy Splash-Orange-Fresh: Grapefruit, Spring Mimosa, Hawaiian Flower
Peace and Jasmine-Green-Citrus: Jasmine and Lemon
Lily of the Beach-Yellow-Woody: Lilly, Coconut, Sandalwood.
Blu Sky Neroli-Blue-Fresh: Blue Sky Accord, Neroli, Orange Flower
Peony Picnic-Pink-Floral: Peony, Plum, Cedar
Cocoa & Cashmere-Purple-Sweet: Cocoa, Musk, Vanilla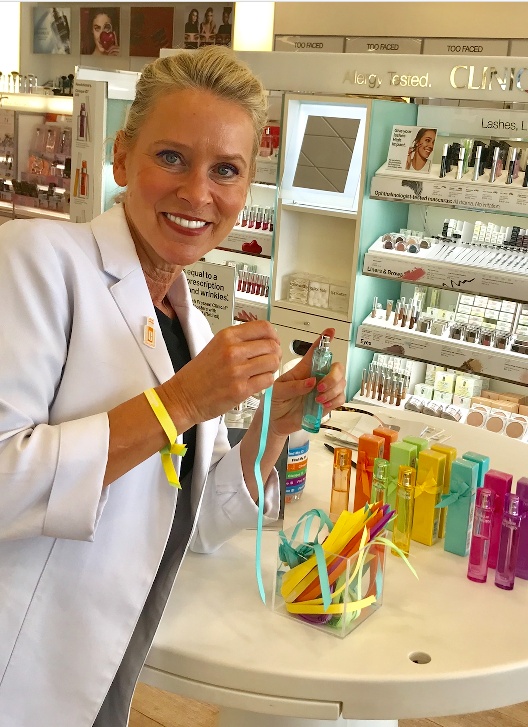 Clinique Representative Kathrine Grant says she likes to layer Lily of the Beach and Cocoa with Cashmere.  Why? She loves the smells of Summer and these two-layered makes her think of beach air with a hint of cocoa butter on a tan.
Burberry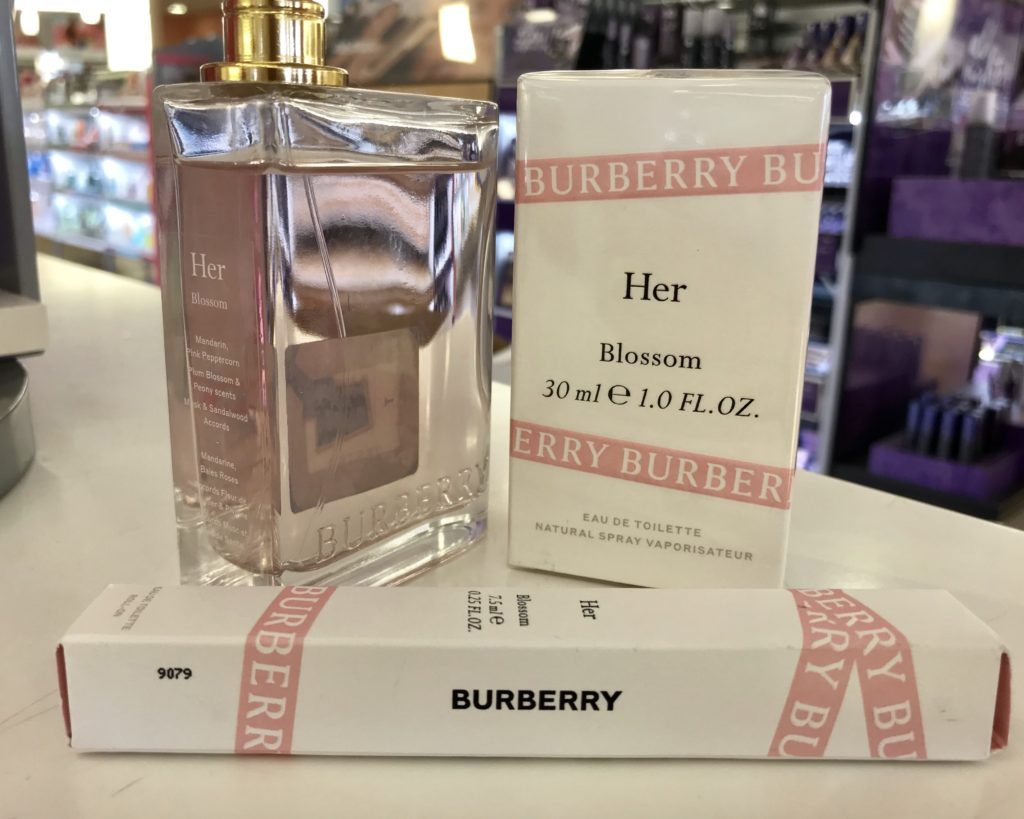 Burberry's Her Blossom ($63-$85)
Each person has a different body chemistry that influences a fragrance.  This fragrance by Burberry is light and can be layered over the Burberry Blossom lotion ($24-$40).  This scent will last all day.
Dolce & Gabbana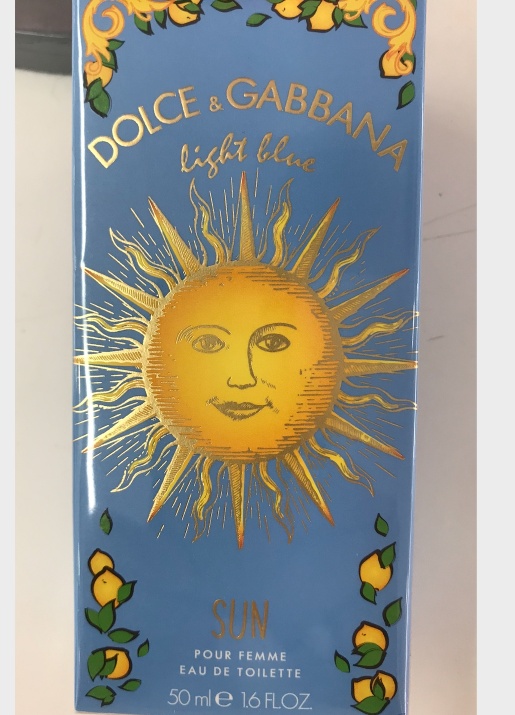 Dolce & Gabbana Light Blue Sun ($68-$80)
This is a spin-off of Dolce's classic Light Blue fragrance.  It's fresh and clean with hints of grapefruit and coconut.
Coach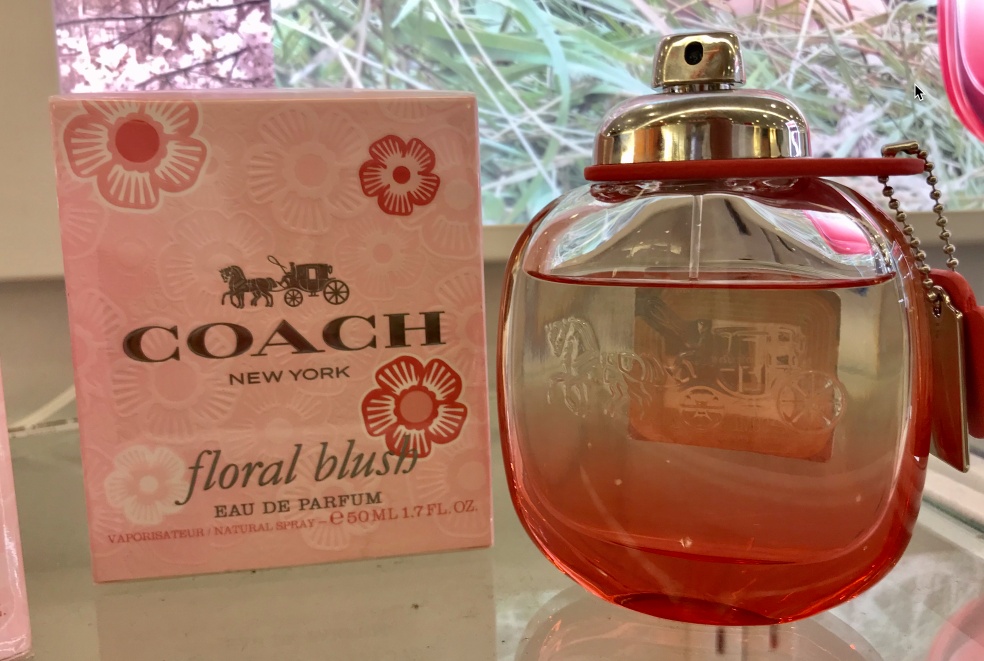 Coach Floral Blush ($60-$80)
Coach satisfies as always with a beautiful rose-colored fragrance that notes yogi berries, peony, and white woods.  It's a floral fragrance that is somewhat sweet.
Philosophy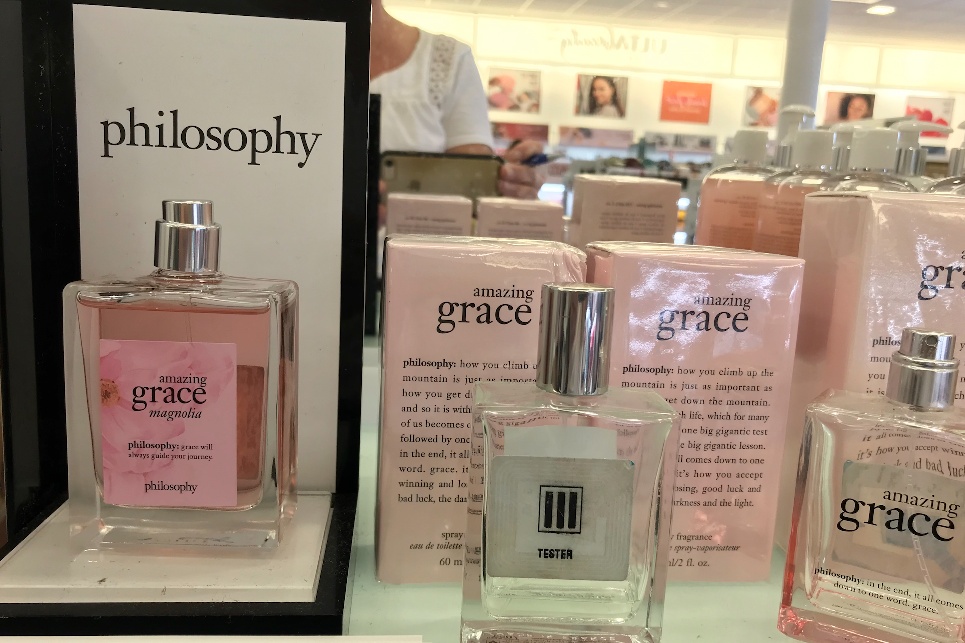 Philosophy Amazing Grace Magnolia ($50) and Amazing Grace Ballet($54)
Both of these are floral scents and also feature shower gel and body lotion to layer. Amazing Grace Magnolia hints at Bergamot, magnolia, and solar Amber. Amazing Grace Ballet has notes of lychee, pink musk, rose, and peony. This one is a great deal when you buy the gift box.
Lancome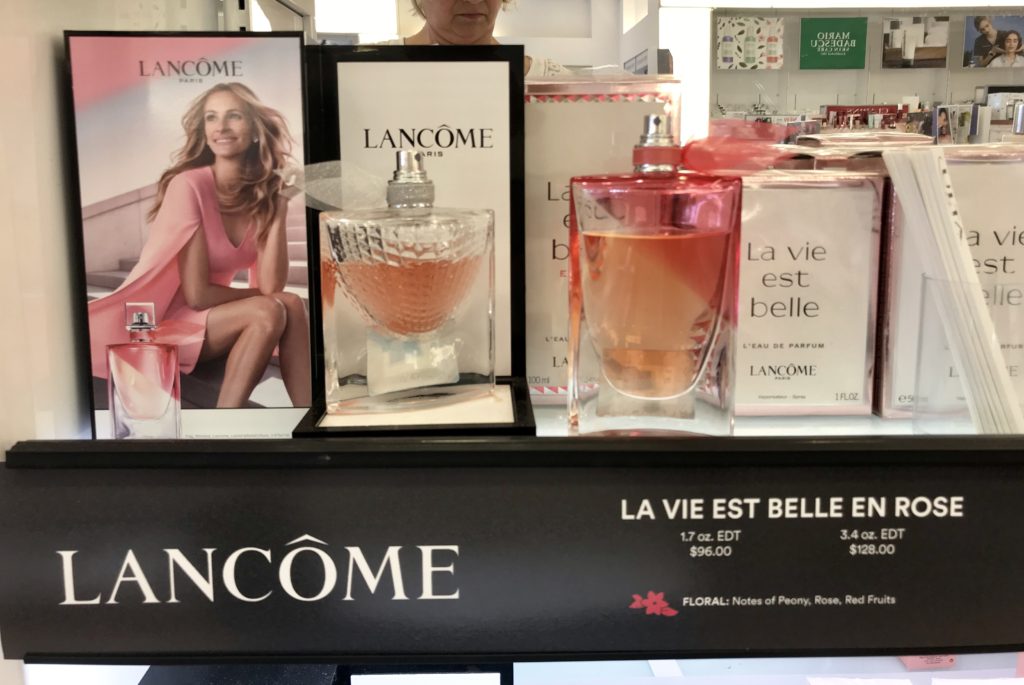 Lancome La Vie Est Belle en Rose ($96-$128)
This Lancome scent is a hint of orange blossoms and jasmine with the fruity flair of pear and almond.
Nest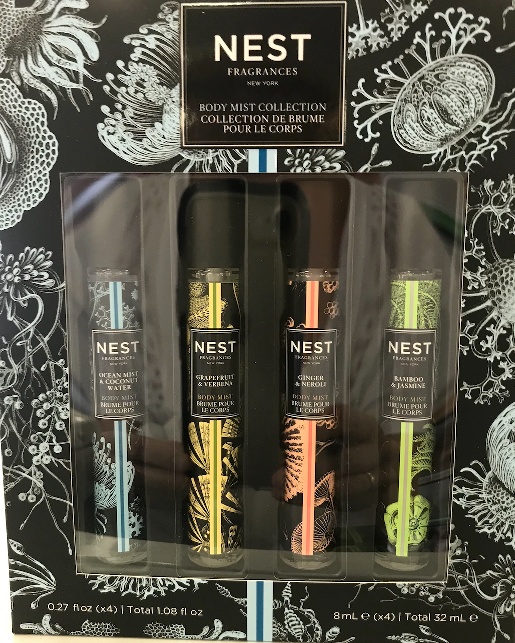 Nest Fragrance New York (Gift Set $44)
These fragrances do not contain any animal-derived ingredients.  They advertise as a forward of wellness using botanical ingredients. Their body mists evoke four different moods with clean notes.  An exceptional deal is their Body Mist Collection that includes four fragrances.  They are Ocean Mist & Coconut Water, Grapefruit & Verbena, Ginger & Neroli, and Bamboo & Jasmine.
Pacifica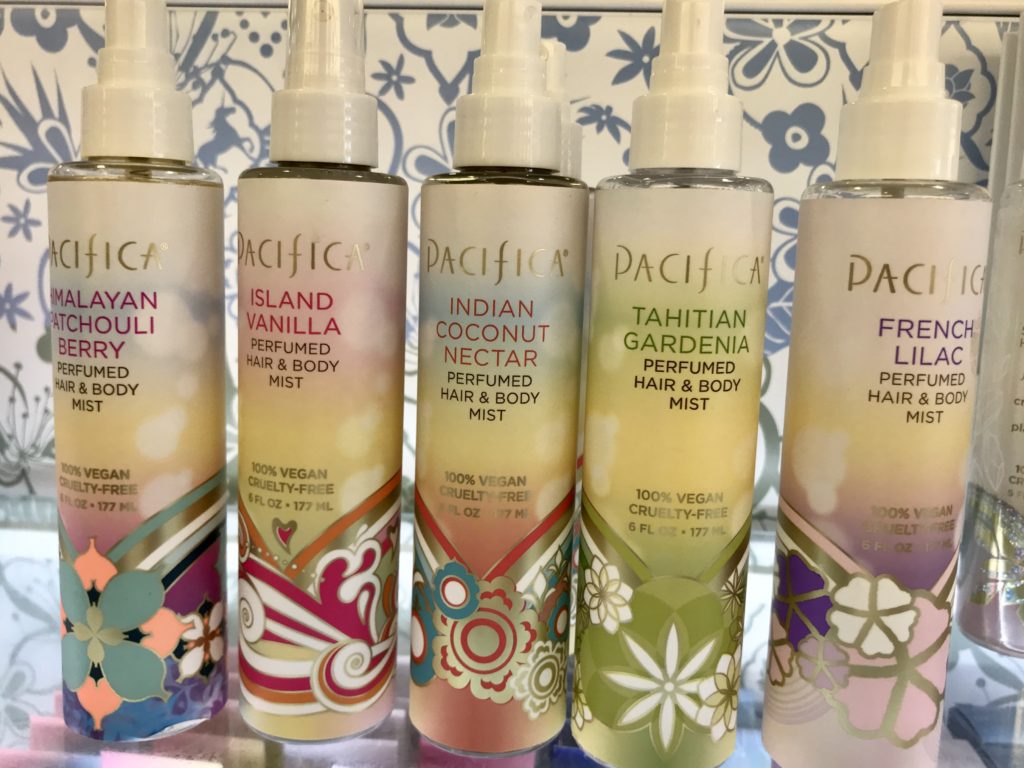 Pacifica Perfumed Hair & Body Mist (12-$22)
These products are vegan, non-toxic and cruelty-free. Their perfumed hair and body mists are light and long-lasting.  They come in several scents and are airy enough to spray on throughout the day for a pick me up. They mesh well with most hair products and the mist is not heavy or overwhelming.
Living Essential Oils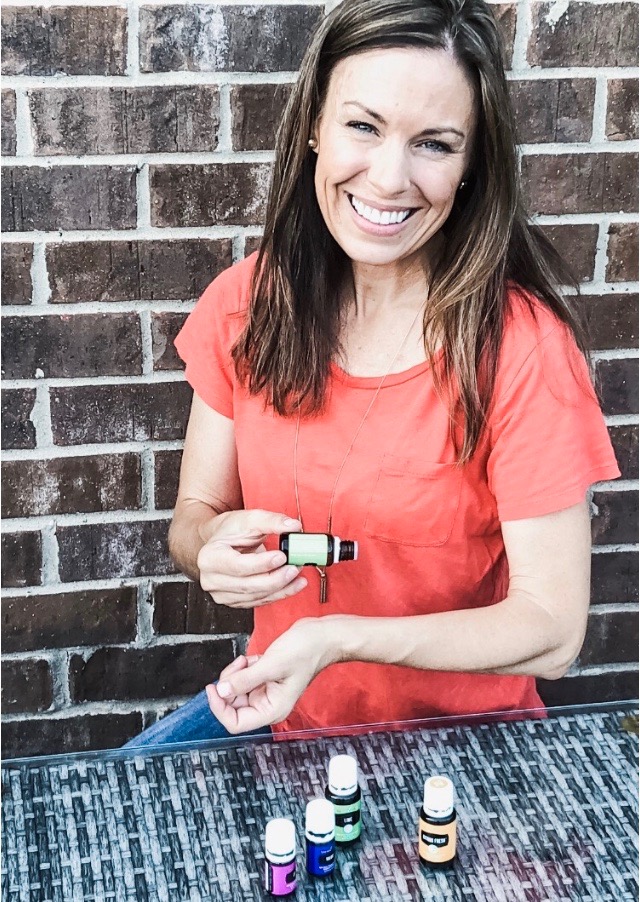 Young Living Essential Oils ($30-$100)
Essential Oils have been around for thousands of years and not only includes fragrant naturals but also are used for healing purposes.  They are made from extracting different plant parts.  This could include leaves, flowers, bark, roots, and peels.   Shelagh Crescenzi is an avid essential oil advocate and representative for Young Living Essential Oils and says, " Essential Oils offer several fragrant options named.  Three best sellers are Stress Away, Joy and Valor.  Valor is a stronger scent, Joy has a floral note and Stress Away is a mix of sweet and sour.  The little bottles are not cheap but have a long life, as only a drop is needed." Ingredients of the DFN's top three are:
Valor:  Properties of spruce, rosewood, blue tansy and frankincense.
Stress Away:  copaiba oil, lime oil, bark oil, vanilla, and ocotea.
Joy:  floral and citrus, including Ylang Ylang, geranium and jasmine.
Disclosure – This post may contain affiliate links. By clicking and shopping, you help support Detroit Fashion News and allow us to keep reporting on all things fashionable.